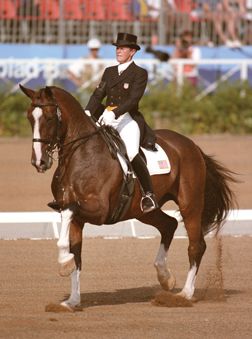 The Dressage Foundation (TDF) Board of Directors has recently approved an increase for the grants awarded from its Gifted Fund for Adult Amateurs. Beginning in 2020, each recipient will receive $1,500 instead of $1,000.
The purpose of the Gifted Fund for Adult Amateurs grant is to "give permission" to adult amateur riders to set aside quality time in concentrated training, away from the daily pressures of job and family. Up to nine $1,500 grants are available each year (one in each USDF Region), plus two additional $1,500 wild card grants (which can be awarded in any Region).
Carolyn Belcher (GA), who received a grant in 2019, recently shared, "I was extremely pleased with our overall progress during our week of training and look forward to the future. I left with exercises to practice at home and plans for our upcoming training and competition schedules. I am greatly appreciative of the opportunity The Dressage Foundation provides to adult amateurs through the Gifted Fund."
In addition, changes have been made to the application to simplify the process. Grant information and the online application form can be found at here.. Gifted Fund applications must be submitted to The Dressage Foundation on or before September 15th of each year. 

Photo of Carol Lavell and her Olympic horse, Gifted.  These grants for adult amateurs were established in memory of Gifted.