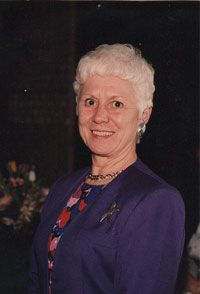 The Dressage Foundation has announced that its annual Patsy Albers Award has increased from $1,000 to $2,500, thanks to generous donors who support the Award.
The Patsy Albers Award, established in memory of Patsy in 2013, provides one annual award to the highest placing Grand Prix or Intermediaire 1 rider (GP preferred) at the U.S. Dressage Festival of Champions who also competed for the U.S. at a previous North American Youth Championship. 
This year's Festival of Champions will be held August 18-23 at Lamplight Equestrian Center in Illinois, with the Award being presented on the 23rd.
Patsy Albers, one of the nation's best-known figures at dressage shows across the country, passed away in October 2012.  She was a longtime supporter and Chef d'Equipe of the North American Youth Championship Region 1 team.  She was also very involved at the prestigious Dressage at Devon where she served for many years as the FEI Event Director.  Her expertise also extended into management, officiating, and volunteering, for which she was honored multiple times.
Past recipients of the Patsy Albers Award are Nick Wagman (2019), Jennifer Williams (2018), Adrienne Lyle (2017), Heather Oleson (2015), Adrienne Lyle (2014), and Kathleen Raine (2013).
For more information about the Patsy Albers Award or The Dressage Foundation, please contact Jenny Johnson at (402) 434-8585, by email at jenny@dressagefoundation.org, or visit here.