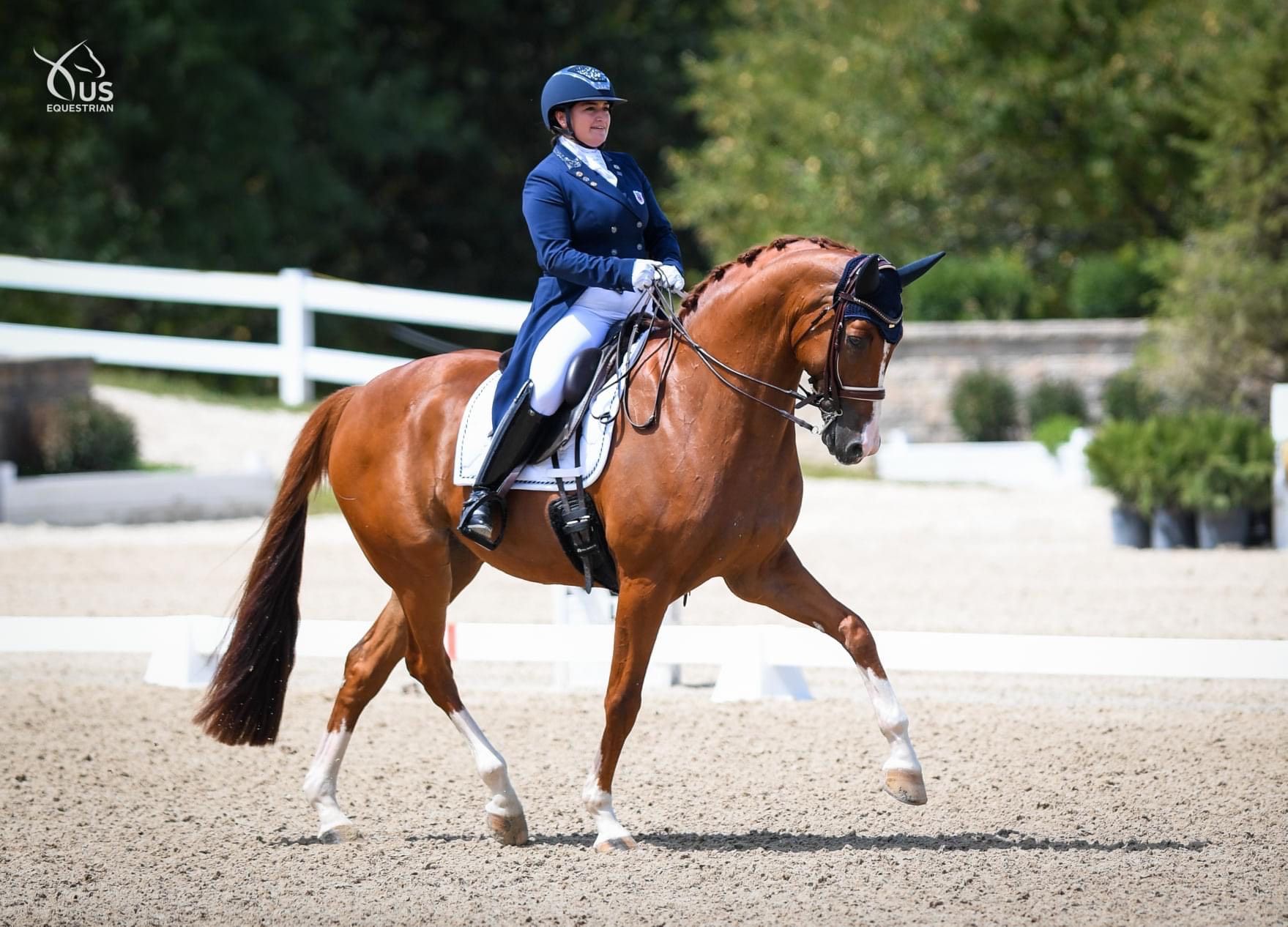 The Dressage Foundation is pleased to announce that Emily Smith (FL) and Quantum Jazz have been selected to receive this year's $25,000 Anne L. Barlow Ramsay Grant for U.S.-Bred Horses.  The purpose of the Grant is to showcase talented American-bred horses ridden by United States citizens, by providing money to train and compete in Wellington, Florida, or in Europe.
Quantum Jazz, an 11-year-old Oldenburg bred by Judy Yancey and owned by Emily Smith, is a product of the U.S. young and developing horse programs.  He has competed at the U.S. Dressage Festival of Champions five times: Developing 6-year-old, Developing Prix St. Georges, twice at Developing Grand Prix, and this year with Emily in the Brentina Cup U25 division, where they received 4th place.  Emily is a USDF bronze, silver, and gold medalist, who also previously competed at two North American Youth Championships. 

Emily will use the $25,000 grant to train with Endel Ots and compete at the Adequan Global Dressage Festival in Wellington, with the goal of competing in Europe. 
She shared, "Receiving the Anne Ramsay Grant for U.S.-Bred Horses from The Dressage Foundation opens an amazing opportunity for me and Quantum Jazz to work with Endel Ots through the 2021 season. The jump to the U25 Grand Prix is daunting and having guidance and support will definitely make it more enjoyable. Quantum Jazz and I are excited for this new journey, and deeply grateful to those who made this a reality. Thank you to Dr. Ramsay for her generosity!"
Dr. Ramsay's passion and support of U.S.-bred dressage horses is exceptional. Through a Charitable Remainder Unitrust that she established with The Dressage Foundation in 1999, she created a Fund to provide these $25,000 grants. From 2008-2014, five horse and rider teams each received $25,000 to travel to Europe for training and competition.  In 2009, Dr. Ramsay established a second Unitrust to extend the impact of the grants in perpetuity.  A total of $200,000 has been awarded from the Anne L. Barlow Ramsay Grant for U.S.-Bred Horses since 2008.
For more information about the Anne L. Barlow Ramsay Grant or The Dressage Foundation, please contact Jenny Johnson at (402) 434-8585, by email at jenny@dressagefoundation.org, or visit www.dressagefoundation.org.

Photo by US Equestrian