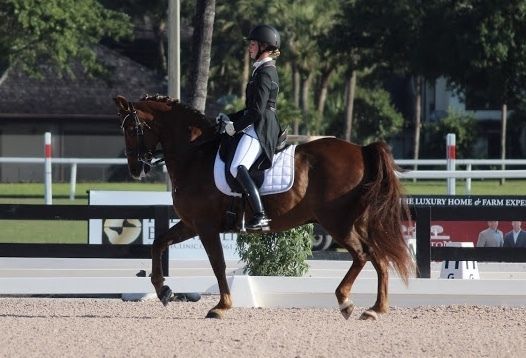 The Dressage Foundation (TDF) is pleased to announce Emily Gill of Louisville, OH, as the first grant recipient of the Amanda Johnson Freestyle Fund.  This Fund provides an annual grant of up to $2,000 to a young professional from USDF Region 2 or 4 to pay for the costs of creating a professionally prepared musical freestyle for competition. 
Emily graduated from the University of Findlay in 2017, worked in Germany at the Hannoveraner Verband, and has been a professional instructor for the past three years.  Emily served as the Assistant Coach of the University of Findlay's Intercollegiate Dressage Team and has been an assistant teacher for Dressage4Kids' Winter Intensive Training Program.  She recently received her USDF gold medal on her Morgan, Kahlua.
Emily will use the grant to work with Collier Wimmer to create a freestyle. She said, "This grant means the world to me!  I have owned my horse since he was a yearling, and he is now 15 and at Grand Prix, so it will be special to have our first professional freestyle.  I feel blessed to ride in honor of Amanda and am so grateful for this grant.  This is an amazing new chapter in my dressage journey!"
This Fund was established by Amanda's family and friends in memory of her dedication to the sport of dressage.  Amanda passed away in 2018 at the age of 37 after a three-year struggle with triple negative breast cancer.  Her family and friends remember her as kind, generous, humble, talented, and brave. She was a well-respected member of the dressage community as a trainer, coach, competitor, and clinician.  Amanda was a lifelong student of dressage and especially enjoyed showing in the musical freestyle classes. 

Barbara Putnam, Amanda's mother, recently shared, "I am so happy for the Amanda Johnson Freestyle Fund to be 'up and going!'  Thanks to all the outstanding riders who applied; we hope you will try again next year!"
Applications for 2021 are due October 15. Visit www.dressagefoundation.org for more information and to find the online application form. Contact Sara Weiss, Director of Grants and Programs at (402) 434-8585 or sara@dressagefoundation.org with any questions.
To make a donation to the Amanda Johnson Freestyle Fund, contact Jenny Johnson, TDF's Executive Director, at (402) 434-8585 or jenny@dressagefoundation.org.  Secure online donations can also be made at www.dressagefoundation.org.