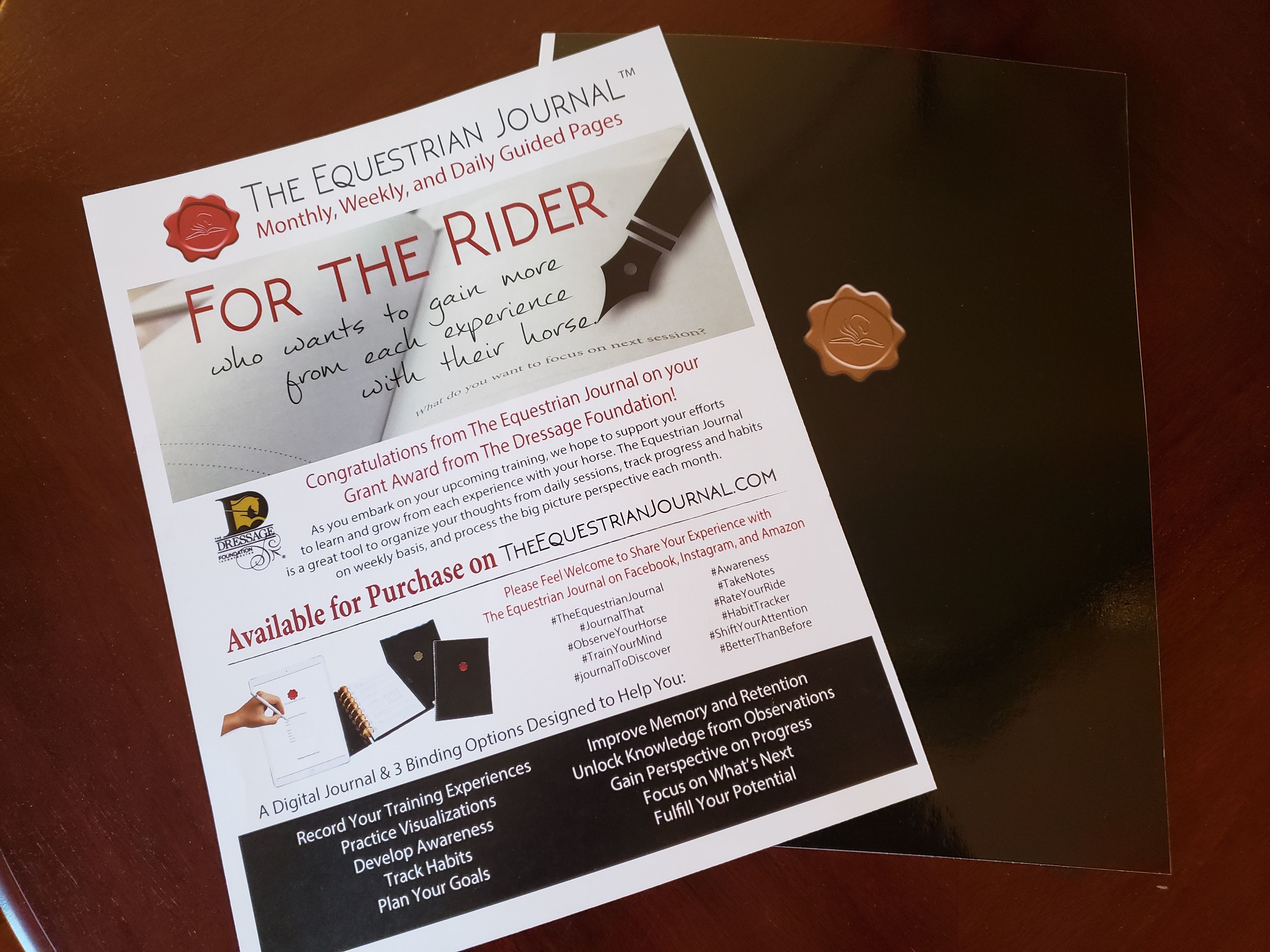 Recipients of The Dressage Foundation's individual grants will receive an added gift, thanks to Catherine Respess. While supplies last, each grant recipient will receive a copy of The Equestrian Journal. 

"As grant recipients embark on their training, I hope to support their efforts to learn and grow from each experience with their horse," says Respess, owner and creator of the journal. "The Equestrian Journal is a great tool to organize thoughts from daily sessions, track progress and habits on a weekly basis, and process the big picture perspective each month." 

TDF thanks Catherine for her donation to support grant recipients from across the country and appreciates that she is passionate about helping other riders achieve their goals. 

A special message from Catherine Respess, creator of The Equestrian Journal:  

Congratulations to the grant recipients from The Dressage Foundation! At The Equestrian Journal, we recognize that the grant winners share our values of education, awareness, and connection with your horse. We are honored to provide each winner with a journal to contribute to their success by giving them a place to capture wisdom from every moment of their educational adventure. 

As a horse owner, you have probably experienced the feeling that the days, weeks, and months blend together. When you reflect back, the clarity of the details is not what it could be. By keeping a journal specifically about your horse, you can better plan your goals and then track the behaviors, patterns, or techniques that contribute to your progress over time. Of course, you can journal about the big breakthroughs and the heartbreaking struggles, but being a great rider is more than just a series of memorable moments. Being a great rider means you are a student of the horse and you are open to capturing wisdom from every moment you spend at the barn! Greatness is born in the details. 

At The Equestrian Journal, our unique 3 part framework is designed to guide thinking riders by making it easy to get your pen moving and your thoughts organized so you can better remember what you are learning! 

"The journals have made a huge difference in my riding. Having an organized space to write down new information from my lessons not only allows me to reiterate what my instructor told me but I am able to retain the information better for my next ride. I feel as though I am progressing quicker because my trainer doesn't have to keep repeating herself in our lessons since my rides throughout the week are more efficient and effective. 

"I now approach my rides with a different mindset. I feel as though I am more mentally prepared and have a better plan that will benefit my horse. It has also allowed me to notice changes in my horse that I may not have realized if it was not written down. Being able to go back 5 months ago to a specific day has been beyond beneficial for many reasons." - Karrie Dash 

Winning a grant can be a life-changing experience loaded with unforgettable insight AND profound lessons that might not stand out in your memories. The Equestrian Journal is dedicated to riders who strive to gain more from EVERY experience with their horse by writing down details from their valuable education in order to develop their awareness and strengthen their connection with their horse.  

Visit www.TheEquestrianJournal.com to learn more.