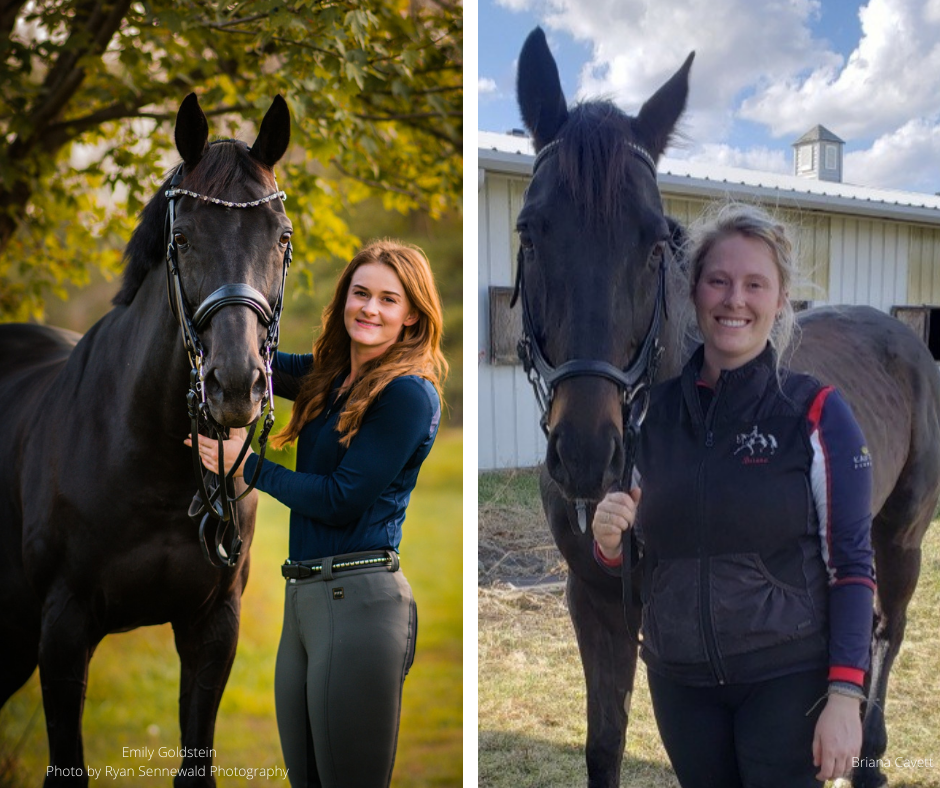 March 30, 2021 - The Dressage Foundation is pleased to announce that the 2021 Karen Skvarla Fund Grants for Young Professionals have been awarded to Briana Cavett of Columbia Station, OH, and Emily Goldstein of Frederick, MD, who will each receive $1,000 for their dressage education.
Briana, who has been a dressage instructor for two years, has 11 full-time students and five part-time students with a wide variety of ages and levels. Briana plans to use the grant funding to complete a month of training with her two horses with Joanne White.

Briana said, "I am appreciative for this grant beyond words! This is the first time I will be able to go into full training on my own horse, and I am so fortunate to have this opportunity.  I cannot wait to see what I am able to learn and bring back to my amazing clients."
Emily has spent the past few years working for Amy Howard and Barbara Strawson and recently embarked on a solo training career. She currently works with 13 students who are of varying ages and levels.  With this funding, Emily will take monthly lessons with Michele Wellman and participate in three clinics with Bent Jensen.
"I am ecstatic to receive this grant which will allow me to participate in educational opportunities that would otherwise be impossible," said Emily. "I feel encouraged to keep growing and applying myself and will soak up these opportunities to apply to my riding, teaching, and competing."
The purpose of the Karen Skvarla Fund is to provide grants enabling dressage professionals to pursue training or educational opportunities. Grant applicants should be in the beginning stages of their dressage careers as instructors and/or trainers. The Karen Skvarla Fund Grant selection committee will especially look for applicants who are eager to grow and improve, and who are fair and respectful to both students and horses.
The Karen Skvarla Fund for Young Professionals awards two annual $1,000 grants, with applications due on or before February 15th of each year.  The application can be found at www.dressagefoundation.org.
For more information about the Karen Skvarla Fund or The Dressage Foundation, please contact Sara Weiss at (402) 434-8585, by email at sara@dressagefoundation.org, or visit www.dressagefoundation.org.
The Dressage Foundation
The Dressage Foundation is a 501(c)(3), non-profit, tax-exempt, donor-driven organization that is dedicated to educating, supporting, and advancing the sport of dressage. The organization solicits contributions, appropriately allocates the donations, and awards grants to dressage riders, judges, instructors, breeders, high-performance teams, nonprofit equestrian organizations, and more. For more information, please visit www.dressagefoundation.org.
Emily's photo was taken by Ryan Sennewald Photography