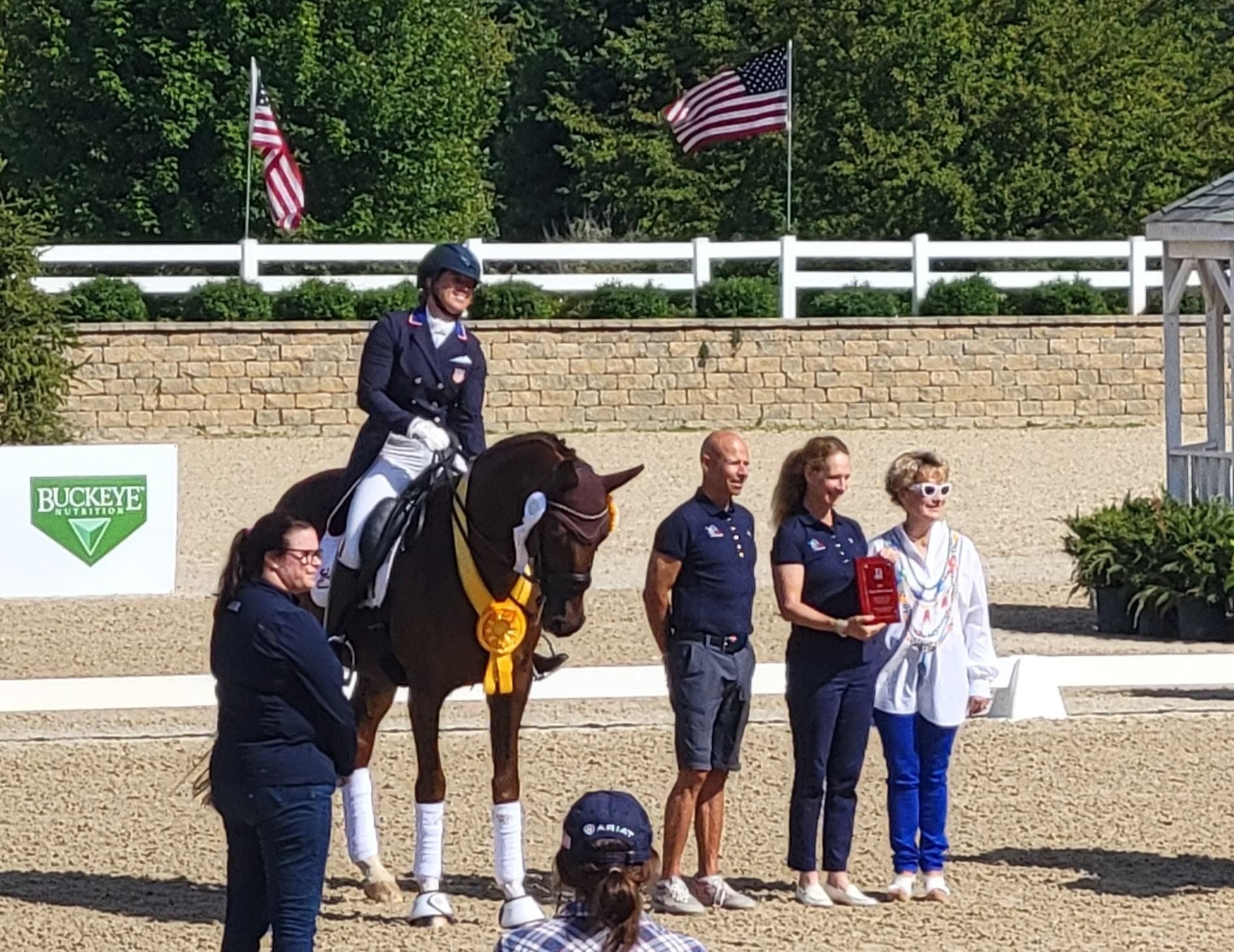 The Dressage Foundation has announced that Katie Johnson is the recipient of its 2021 Patsy Albers Award, established in 2012 in special remembrance of Patsy. The $2,500 award provides financial support for continuing education and training to a High Performance rider.
Johnson, of Greenwood Village, Colorado, and Quartett, a 13-year-old German Sport Horse owned by Kylee Lourie, captured third place in the USEF Grand Prix Dressage National Championship at the recent U.S. Dressage Festival of Champions. The Patsy Albers Award is given to the highest placing Grand Prix rider at the Championships who also competed for the U.S. at a previous North American Youth Championship. 
Johnson said, "Young Riders marked an important time in my career. It gave me my first chance to feel what it was like to compete on a team and be in a situation with so many peers who love what I love. To receive the Patsy Albers Award with Quartett is very special to me. It marks the end of my first Grand Prix year, as well as Quarttet's, with an award that brings together so many amazing memories and people.  I would like to thank my first trainer, Elizabeth Johnson, the owner of my Young Rider horse Millennium, Pam Brown-Schachter, Debbie McDonald, Adrienne Lyle, and Kylee Lourie. Thank you to The Dressage Foundation for supporting so many riders with learning experiences and acknowledgments of our achievements!" 
Patsy Albers, one of the nation's best-known figures at dressage shows across the country, passed away in October 2012.  She was a longtime supporter and Chef d'Equipe of the North American Junior/Young Rider Championship (NAJYRC) Region 1 team.  She was also very involved at the prestigious Dressage at Devon where she served for many years as the FEI Event Director.  Her expertise also extended into management, officiating, and volunteering, for which she was honored multiple times.
For more information about the Patsy Albers Award or The Dressage Foundation, please contact The Dressage Foundation at (402) 434-8585, by email at info@dressagefoundation.org, or click here.