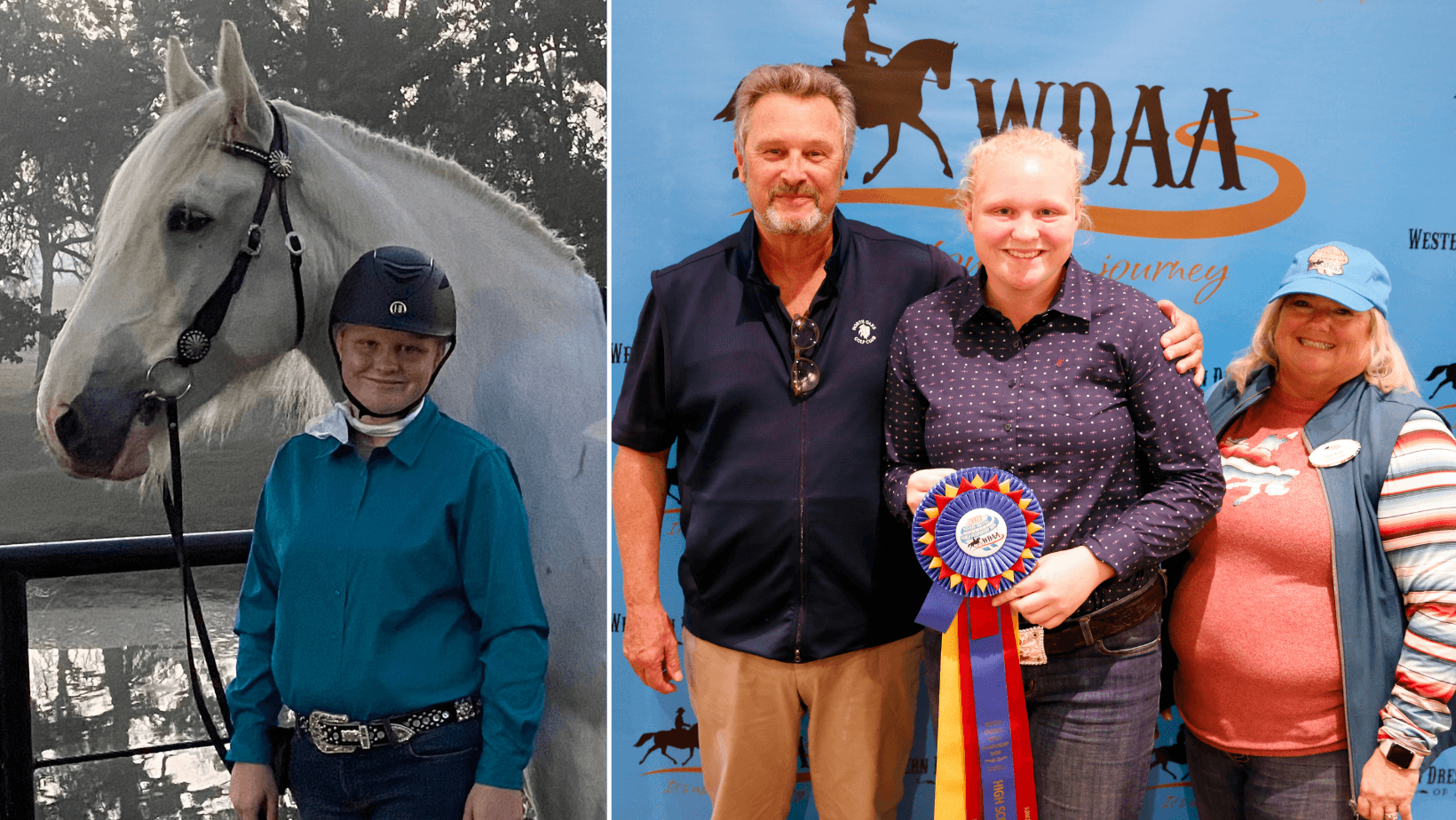 The Dressage Foundation (TDF) is pleased to announce that the "Lynn Palm Future Star Award" has been awarded to Anna Droegemueller of Sperry, OK. The $1,500 Future Star Award was given to the highest-scoring junior at the 2021 Western Dressage Association of America (WDAA) World Championship Show. Anna showed Pendragon, a Draft-Cross to a score of 77.5 percent in the Intro Level.  Anna was also the Champion Junior Intro Level rider.
Anna has been riding dressage since she was ten years old and has been competing with "Dragon" since 2018. Anna hopes to continue her training and rise up the levels of Western Dressage. She plans to use her award money to attend clinics and continue training to compete in Level One.
"Thank you for allowing me the opportunity to continue my training and open up more possibilities for me to meet these goals by granting me the Lynn Palm Future Star Award," said Anna. "I'm still shocked that Dragon and I qualified and received such a generous gift."
Lynn Palm said, "My first mentor, Bobbi Steele, trained me in the dressage saddle. In a card for my high school graduation, she wrote, 'To a Future Great Star!' I always strive to live up to that. I hope that Anna is a Future Star as a Professional with Western Dressage. I am proud that the award will be used for more education. Congratulations to her and her team!"
The $1,500 Lynn Palm Future Star Award will enable a promising youth rider to continue their Western Dressage training and education and will be awarded annually at the WDAA World Championship Show.
For more information on this award, contact Sara Weiss at sara@dressagefoundation.org or (402) 434-8585.
Donations to support Western Dressage through the Lynn Palm Western Dressage Fund are welcome.  For more information or to donate, contact Jenny Johnson at jenny@dressagefoundation.org or (402) 434-8585.  
Award photo courtesy of the Western Dressage Association of America.
About The Dressage Foundation 
The Dressage Foundation is a 501(c)(3), non-profit, tax-exempt, donor-driven organization that is dedicated to educating, supporting, and advancing the sport of dressage. The organization solicits contributions, appropriately allocates the donations, and awards grants to dressage riders, judges, instructors, breeders, high-performance teams, and nonprofit equestrian organizations. For more information, please visit www.dressagefoundation.org. 
About Lynn Palm 
Palm's career highlights include 2007 American Quarter Horse Association (AQHA) Horsewoman of the Year, a record four AQHA Superhorse wins, AQHA Female Equestrian of the Year by the Women's Athletic Association, named one of the top United States clinicians by Horse & Rider magazine, over 34 AQHA World and Reserve World Champions, 7 WDAA World Championships and over 50 bridleless dressage exhibitions at events including the National Horse Show, 1989 World Cup, the 1996 Atlanta Olympic Games, and World Cup. Palm and Cyril Pittion-Rossillon are co-founders of three horse industry companies: Palm Partnership Training, Women LUV Horses, and Alliance Saddlery USA. Palm is the author of "The Rider's Guide to Real Collection" and "Your Complete Guide to Western Dressage."