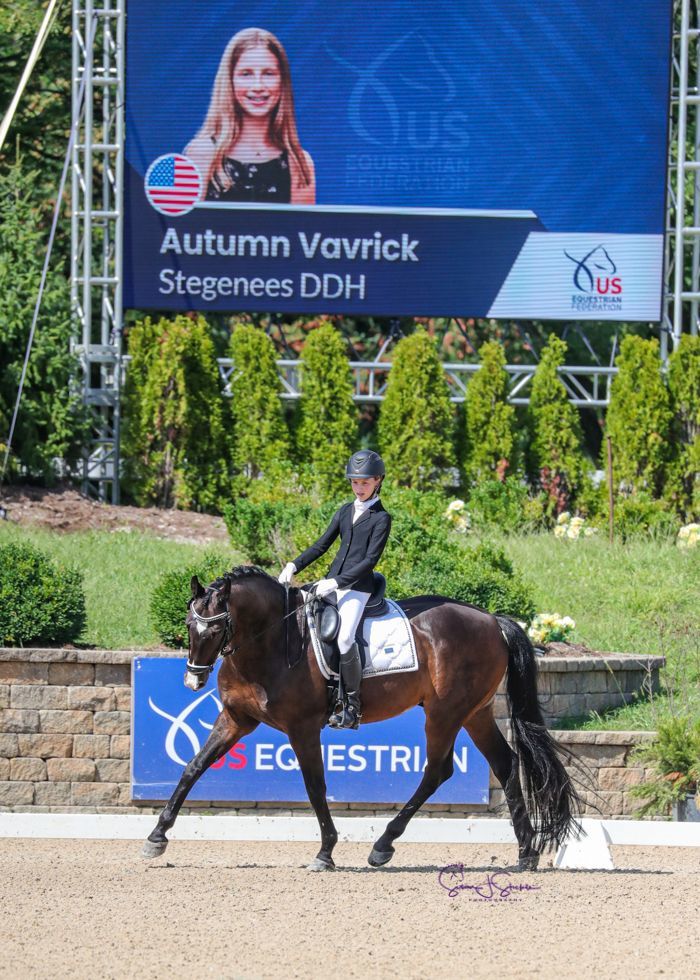 The Dressage Foundation is pleased to announce that the 2022 Carolyn Van Cise Memorial Sportsmanship Fund Grant has been awarded to Autumn Vavrick (MI). Autumn was awarded the $1,000 grant because she exemplifies qualities that Carolyn Van Cise found most important in life, including demonstration of positive sportsmanship.
Autumn, a member of the All Dressage Association, plans to use her grant funding to attend a clinic with Christine Traurig this summer. Autumn is currently a seventh grader and has a 4.0 GPA. She rides and trains with Laurie Moore and would like to start to show Third Level by the end of the year.
Autumn said, "I am thrilled to receive the Carolyn Van Cise Fund grant! This grant will allow me to receive training to help further my dressage education, goals, and passion for learning.  Dressage is the biggest part of my life, and I am honored and humbled that I was chosen. I am thankful for the generous donors that make this possible and am so excited for what the future holds!" 
For more information about the Carolyn Van Cise Memorial Sportsmanship Fund or The Dressage Foundation, please contact Sara Weiss at (402) 434-8585, by email at sara@dressagefoundation.org, or visit www.dressagefoundation.org. 
The Dressage Foundation
The Dressage Foundation is a 501(c)(3), non-profit, tax-exempt, donor-driven organization that is dedicated to educating, supporting, and advancing the sport of dressage. The organization solicits contributions, appropriately allocates the donations, and awards grants to dressage riders, judges, instructors, breeders, high-performance teams, nonprofit equestrian organizations, and more. For more information, please visit www.dressagefoundation.org.
Photo Provided by Susan Stickle