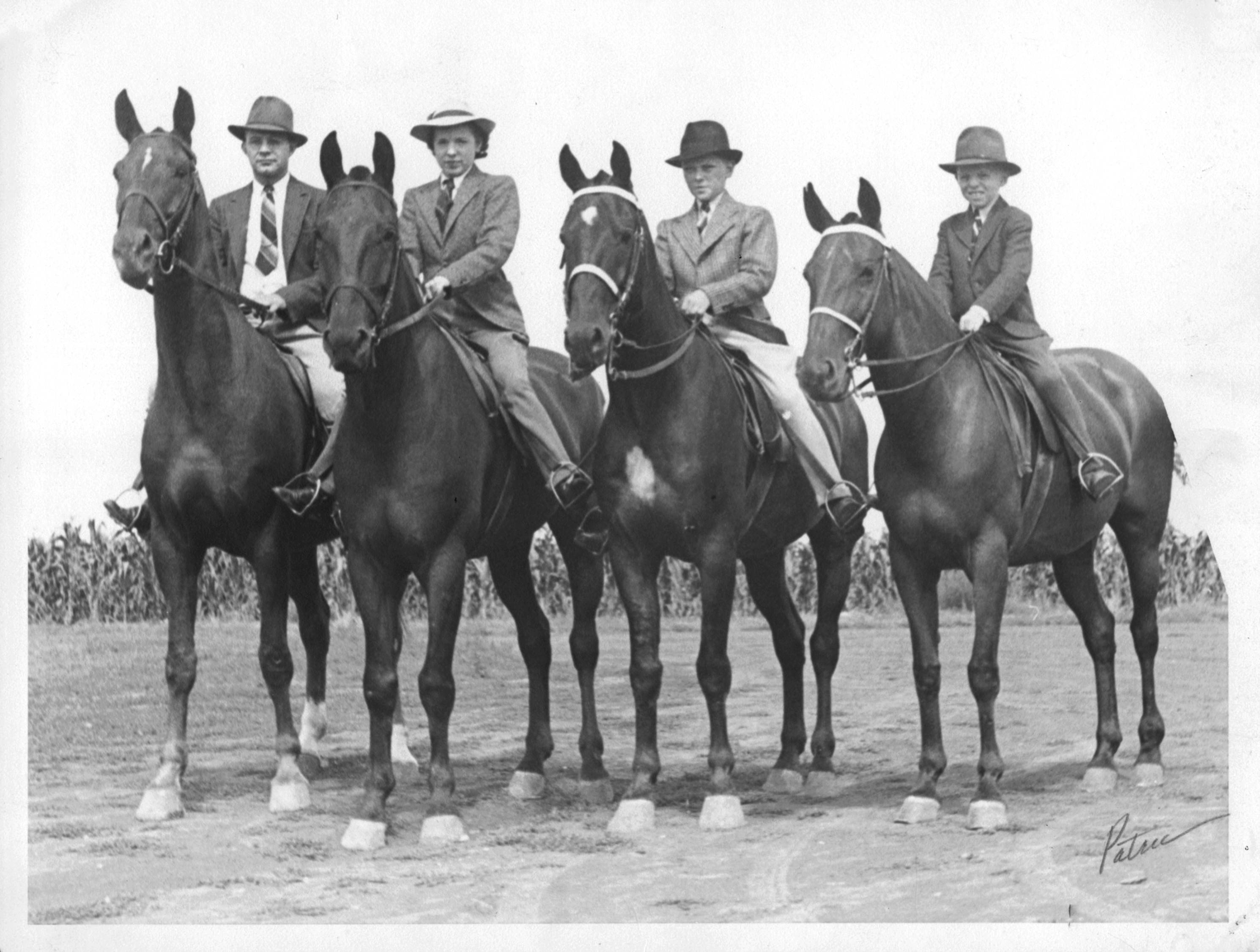 Boomer Family – Lowell, Gladys, John, Jim
When Lowell Boomer founded The Dressage Foundation (TDF) in 1989, he knew that financial help would be needed by equestrians and dressage clubs at that time, but also in the future.  Knowing that, he put gifts in place to benefit TDF's grant recipients then and now. 
In 2001, Lowell created two Charitable Remainder Unitrusts, funded with his company stock and valued at $200,000 each.  Through the Unitrusts, he avoided capital gains taxes, received a charitable tax deduction at that time, and also received lifetime income from the Unitrusts, while the assets grew tax-free inside the Unitrusts.
When Lowell passed away in 2011 at the age of 100, payment of the annual income from the Unitrusts transferred to Lowell's sons, John and Jim, and their spouses.  With the passing of Jim and his wife, Lois, in 2017, the remaining assets in one of Lowell's Unitrusts, totaling over $328,000, was gifted to TDF at that time.

With the sad recent passing of TDF's dear friends, John and Lynn Boomer, the remaining assets in Lowell's second Unitrust have now been donated to TDF. This incredible second gift of nearly $350,000 will enable TDF to continue supporting the dressage community for years to come.

When he established the Unitrusts, Lowell Boomer said, "Through the use of these two Charitable Remainder Unitrusts, I have been able to extend the value of assets built over my lifetime to provide income for me in my senior years, to provide income for my two sons and their families during their senior years, and then to help the equestrian sport in which my family and I have spent so many enriching, enjoyable years."
"So much has been accomplished because of Lowell's foresight in creating The Dressage Foundation," said Maryal Barnett, TDF's Board Chair.  "He and his family continued to support the dressage community both through their active involvement and generous financial gifts.  Thousands of individuals and groups have been able to pursue their dreams because of grants from The Dressage Foundation.  How can we ever thank the Boomer family enough?"
Beth Baumert, TDF's President and CEO, said, "Lowell Boomer was a genius and a visionary.  In 1973, his extraordinary foresight not only resulted in the founding of USDF, but then 15 years later the founding of The Dressage Foundation.  His infrastructure for TDF was brilliantly conceived and it has served the entire dressage community for over 30 years. For his two sons, Lowell created Charitable Remainder Unitrusts that provided income for all of them and subsequently a nest egg in the form of The Boomer Family Endowment Fund that will benefit the sport they loved for decades to come."
More information about Lowell's extraordinary gift to The Dressage Foundation, as well as details about Charitable Remainder Unitrusts, can be found at https://www.dressagefoundation.org/support/planned_giving.html or by contacting Jenny Johnson, TDF's Executive Director, at 402-434-8585 or jenny@dressagefoundation.org.
The Dressage Foundation
The Dressage Foundation is a 501(c)(3), non-profit, tax-exempt, donor-driven organization that is dedicated to educating, supporting, and advancing the sport of dressage.  The organization solicits contributions, appropriately allocates the donations, and awards grants to dressage riders, judges, instructors, breeders, high performance teams, nonprofit equestrian organizations, and more.  For more information, please visit www.dressagefoundation.org.