Eliza Sydnor Romm (NC)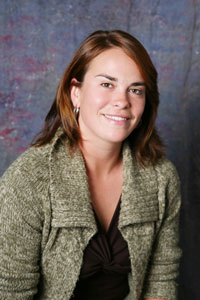 Eliza Sydnor has worked professionally as a dressage trainer and instructor for the past 10 years and is a USDF Certified Instructor, Training – Fourth level. Eliza joined the Foundation Board of Directors in 2010. She says:
My mother is a trainer as well. I began riding as a toddler, got my first horse at 4 years of age, and began competing at 6 years of age!
I always dreamed of making a US Team on a horse I trained from the beginning to the Grand Prix. (Still a dream, by the way!) In 2010, I want to compete at the US Young Horse Championships, compete at the Grand Prix with Lancer, make it to Devon at the PSG/I1 with Gracie. Also, I want to complete the USDF L Program within the next 5 years.
I first got involved with The Dressage Foundation by being selected as a YR for the International Dream Program when I was 20. I have been involved ever since.
Being selected as a participant for the International Dream Program and then many years later as a chaperone, were both amazing, memorable experiences. I also vividly remember sitting around a table with John and Lynn Boomer at a USDF Convention, when I was still a YR, and they truly wanted my input on the programs that they offered. That was when I realized that, even as a young person, I could make a positive impact on the sport through helping with these programs. I didn't need to be extremely wealthy to be beneficial to TDF or any other organization. I could put my ideas forward and offer my time, even if I didn't have any money to donate.