General Jonathan Burton (AZ) - Emeritus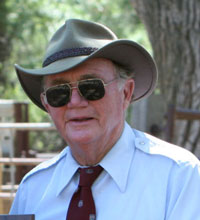 Major General Jonathan R. Burton is a well known figure in the FEI disciplines and in the horse world in general, both here and abroad. He is an FEI judge in Jumping and Dressage and an "O" judge in 3-day Eventing. General Burton was a member of the United States Army Olympic Equestrian Team's three-day event squad at the 1948 London Olympic Games and was a member of the United States Equestrian Team in 1956 in Stockholm, the site of the equestrian events of the Melbourne Olympic Games.
He was the United States three-day eventing champion in 1947 and the individual military champion in show jumping in 1947 at the national horse Show (CSIO New York) the same year.
After 33 years in the U.S. Army he retired as a Major General in 1975 served as Executive Vice President for the U.S.E.T. for ten years and as President of the U.S. Combined Training Association for three years.