John F. Boomer (NE) - Emeritus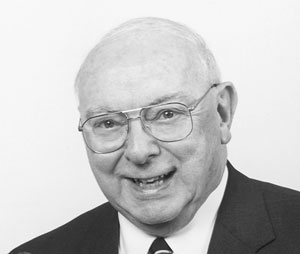 John Boomer was associated for fourteen years with Business Week Magazine, McGraw-Hill, Inc., in New York City. He served for 10 years as Director of Advertising/Corporate Identity for United Technologies Corporation, Hartford, Connecticut, then the 18th largest corporation among the Fortune 500. In earlier years, he was associated with Boomer's Printing Company, Lincoln, Nebraska, and has experience in graphic arts and direct mail fund raising.
For the past twenty years, he has been involved in fund raising work, and served from 1984 to 1994 as founding President of Good Samaritan Hospital Foundation in Kearney, Nebraska. He received the "Outstanding Professional Fund Raising Executive of the Year" award in Nebraska from the National Society of Fund Raising Executives (NSFRE, Now Association of Fundraising Professionals, AFP) in 1993.
John Boomer jumping Sonny Boy
John Boomer has been actively involved during his career in civic and community work. He served as Chair of the Board of Directors of the American Heart Association, Nebraska Affiliate, in 1996-1997. From 1992-1997, he served as a member of the Board of Directors for The Buckle, Inc., a for-profit chain of nearly 200 clothing stores in the Midwest. The Buckle's securities are traded on the New York Stock Exchange. John Boomer served as President of the Board of Directors for the Saint Paul United Methodist Church Foundation, Lincoln, Nebraska from 1994-1997.
From 1997 through 2009, John and Lynn Boomer served as the sole management staff for The Dressage Foundation, a national equestrian organization headquartered in Lincoln, Nebraska, with the mission "to cultivate and provide financial support for the advancement of Dressage." As a young man, John Boomer and his father, Lowell Boomer, trained "Anchors Aweigh," whom John rode and competed as an outstanding jumper in the Midwest. Anchors Aweigh climaxed his career as a member of the Canadian Equestrian Team.
John Boomer is a graduate of the University of Nebraska with a B.S. degree in Business Administration, the R&R Newkirk Fund Raising Course, and the American Business Press Advanced Studies at Harvard University.