Team #477 Pam Paul and Do Wah Ditty D. Do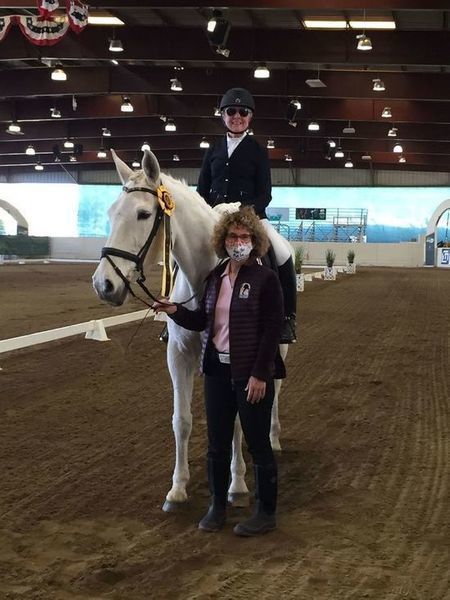 Team #477 – Pam Paul and Do Wah Ditty D. Do
Ages: 72 & 28
Combined Age: 100
Although Pamela Paul grew up with a father who trained and hauled racehorses, she really didn't start riding until the age of 21 when her family ended up with a stallion called Mr. Mitsy. She and her sisters had great fun riding him triple after school. Raised in Pleasanton, California, Pam's family believed that riding taught responsibility so the older girls would supervise the younger (there were 4) when they went to horse shows. She remembers going to Santa Rosa, CA, where they would crash in the corner room at the Travelodge, joining other horse-crazy friends, some in beds and some in sleeping bags, after a day of competing! They made do with a strict budget, groomed for each other, and shared tack, all to follow the passion of riding.

In those days, Pam and her sisters rode Western pleasure. One of her earliest horses, (really a family horse), was Shorty Strip who came from Utah. Then her dad ended up with a Quarter Horse race cross named Canada Joe. He was really Pam's first "horse of a lifetime!" Canada Joe came to the family only having been ridden eight times and Pam really enjoyed training him.

Pam's job transferred her to Fresno, CA, and she began reining cow horse and cutting riding. Her horses were Lucky Doc and a gelding named Sue City Sioux. At that point, her family also acquired Fresno's Peppy Doll who was a wonderful horse and super fun to ride.  Another job transfer to the Sacramento area meant Pam would need to switch disciplines as it was hard to find Western riding events. She started doing Hunters on Lucky Doc and then bought a 2-year-old Thoroughbred cross named Luke.

Pam describes the next few years with Luke as years where she concentrated on "staying alive." Why? Well, Luke had a little bit of spook!

But Pam's luck was about to change! Switching barns and arriving at Clay Station Ranch in Wilton, CA, Pam met her second "horse of a lifetime." Saint Sadie, or Sadie the Wonder Horse, is what everyone calls Do Wah Ditty Ditty Do, the horse she rode for her Century Club ride. Owned by her friend Kathy, Saint Sadie hacks were now available as a welcome respite from the shenanigans of first Luke and then Pam's next horse, Cory, another wild and difficult ride.

Sadie will be 28 this year and is a gray Oldenburg by Diamont. She is 17.1 hands but prefers to not share her weight! She was ridden hunter/jumper initially but has concentrated on dressage for the past 10 years.

Sadie is the "go-to" horse at Clay Station for fearful riders, riders rehabbing from bad accidents, children who want a pony ride, and adults like Pam who just want a fun ride with no spook. Horses galloping and bucking nearby, dogs tearing across the arena, screeching chickens, swarms of bees passing through the property, hail on the metal roof of the indoor arena, and pouring rain—nothing phases this super sensible horse.

Pam's third "horse of a lifetime" was Santo Domingo, owned by her friend Maureen. Domingo was a talented and fun ride and brought Pam two scores away from her USDF silver medal.

Pam is currently training with Sandy Savage on her newly acquired Hanoverian, Ladybug, but still finds time to ride Sadie once a week. She is excited to become a member of the Century Club and wishes that all her barn "family" had been able to attend the show.
Pam and Sadie rode Second Level, Test 1 on January 30, 2021, earning a score of 66.014 to complete her Century Club ride.