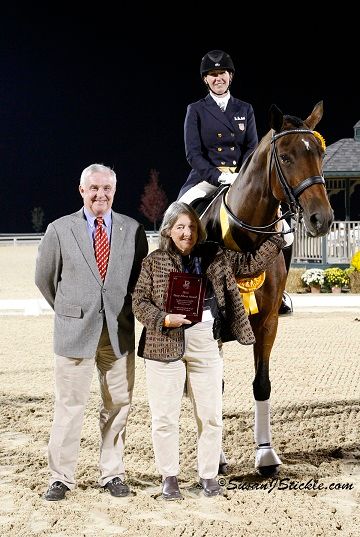 October 28, 2013 – The Dressage Foundation is proud to announce that Kathleen Raine (CA) is the first recipient of the Patsy Albers Award, established in 2012 in special remembrance of Patsy. The $500 award provides financial support for continuing education and training to a High Performance rider.
Kathleen Raine of Murrieta, CA, is a Grand Prix competitor riding Breanna, a 13-year-old Hanoverian mare. Kathleen placed third in the Grand Prix Division at the USEF High Performance Championships held at the Festival of Champions on October 8-12, 2013. She received the award because she was the highest placing Grand Prix rider who also competed for the U.S. at a previous North American Junior/Young Rider Championship.
"Patsy was such a wonderful and inspirational person, always giving so much time and positive energy to everything in which she was involved," said Kathleen. "I feel very honored to receive this award."
Patsy Albers, one of the nation's best known figures at dressage shows across the country, passed away in October 2012. She was a longtime supporter and Chef d'Equipe of the North American Junior/Young Rider Championship (NAJYRC) Region 1 team. She was also very involved at the prestigious Dressage at Devon where she served for many years as the FEI Event Director. Her expertise also extended into management, officiating, and volunteering, for which she was honored multiple times. "Patsy was a Region 1 delegate for as long as I can remember," said Janine Malone, a close friend of Patsy's who established the Award at The Dressage Foundation. "I knew she would want to support riders who had come up through the ranks, competing at the North American Junior/Young Rider Championship and going on to the Festival of Champions."
Above: TDF Board member Joseph Carr and Fund Creator Janine Malone present the Patsy Albers Award to Kathleen Raine and Breanna. Photo by Susan J. Stickle.
For more information about the Patsy Albers Award or The Dressage Foundation, please contact Jenny Johnson at (402) 434-8585, by email at jenny@dressagefoundation.org, or visit www.dressagefoundation.org.
Photo Copyright Susan Stickle