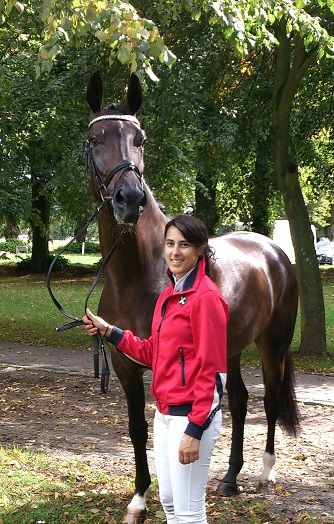 The Dressage Foundation's Renee Isler Dressage Support Fund has awarded an $800 grant to Jhesika Wells (WA) to receive training from Severo Jurado, a trainer and top rider for Andreas Helgstrand in Denmark.
Jhesika, a successful young U.S. rider, is currently in Denmark working for Helgstrand. She will use the grant to take a series of intensive training lessons with Jurado, riding Helgstrand's horse, Digital. Jhesika plans to continue learning how to train a horse to the FEI levels and compete throughout Europe.
"I am ecstatic and honored that The Dressage Foundation has chosen me to receive this grant. Having this help makes opportunities available to me that would not be possible due to financial reasons. I believe that money should never stand in the way of someone's dream and The Dressage Foundation is helping not only me, but so many other people. Words cannot express the gratitude I feel," said Jhesika. "I will continue to work hard and learn all I can here, so that when I move back to the U.S., I will be able to share my knowledge with others - especially with the youth of our sport. I want other people to benefit from the education I received."
Grants are available for young riders and professionals through the Renee Isler Dressage Support Fund. Since 2008, the Renee Isler Dressage Support Fund has provided nearly $40,000 in grants/scholarships to support the further education of the recipients. For more information about this Fund, go to www.dressagefoundation.org/Renee_Isler_Dressage_Support_Fund.htm or contact Jenny Johnson at (402)434-8585 or jenny@dressagefoundation.org.