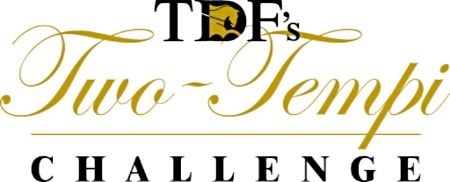 The Dressage Foundation (TDF) held the first annual Two-Tempi Challenge in 2015 with great response from riders and donors. Eighteen riders participated in the Challenge by riding as many consecutive two-tempi changes as they could. The riders then found supporters to make a donation to TDF based on the number of changes completed. Overall, $11,705 was raised to support TDF's grants and programs through the Challenge.
National and Regional winners have been announced:
National Champion – Julie Julian (IL) – 130 changes
National Reserve Champion – Emily Miles (KS) – 124 changes
Region 1 Champion – Lauren Sprieser (VA) – 58 changes
Region 1 Reserve Champion – Adriane Alvord (VA) – 42 changes
Region 2 Champion – Julie Julian (IL) – 130 changes
Region 2 Reserve Champion – Clara Etzel (MI) – 21 changes
Region 3 Champion – Jennifer Baumert (SC) – 25 changes
Region 3 Reserve Champion – Emily Smith (FL) – 12 changes
Region 4 Champion – Emily Miles (KS) – 124 changes
Region 4 Reserve Champion – Heather Salden-Kurtz (MN) – 38 changes
Region 8 Champion – Annie Morris (CT) – 32 changes
Region 8 Reserve Champion – Matthew Baillargeon (ME) – 6 changes
Region 9 Champion – Donna Meyer (TX) – 28 changes
We would also like to recognize the top two donor groups:
Donna Meyer's donors raised $4,276 in honor of Evie Tumlin.
Jennifer Baumert's donors raised $2,400.
Riders who have horses capable of doing two-tempi changes are invited to participate in the 2016 Two-Tempi Challenge.
Each rider will work with an individual, dressage club, stable, or any group of dressage friends who are willing to make a pledge to TDF for each successfully completed consecutive two-tempi change. All donations are used to support TDF's programs, grants, and scholarships.
At the end of each calendar year, TDF will announce National and Regional Two-Tempi Challenge Champions and Reserve Champions, based on the number of completed consecutive two-tempis. There will also be awards for the top two groups that raise the most donations for TDF.