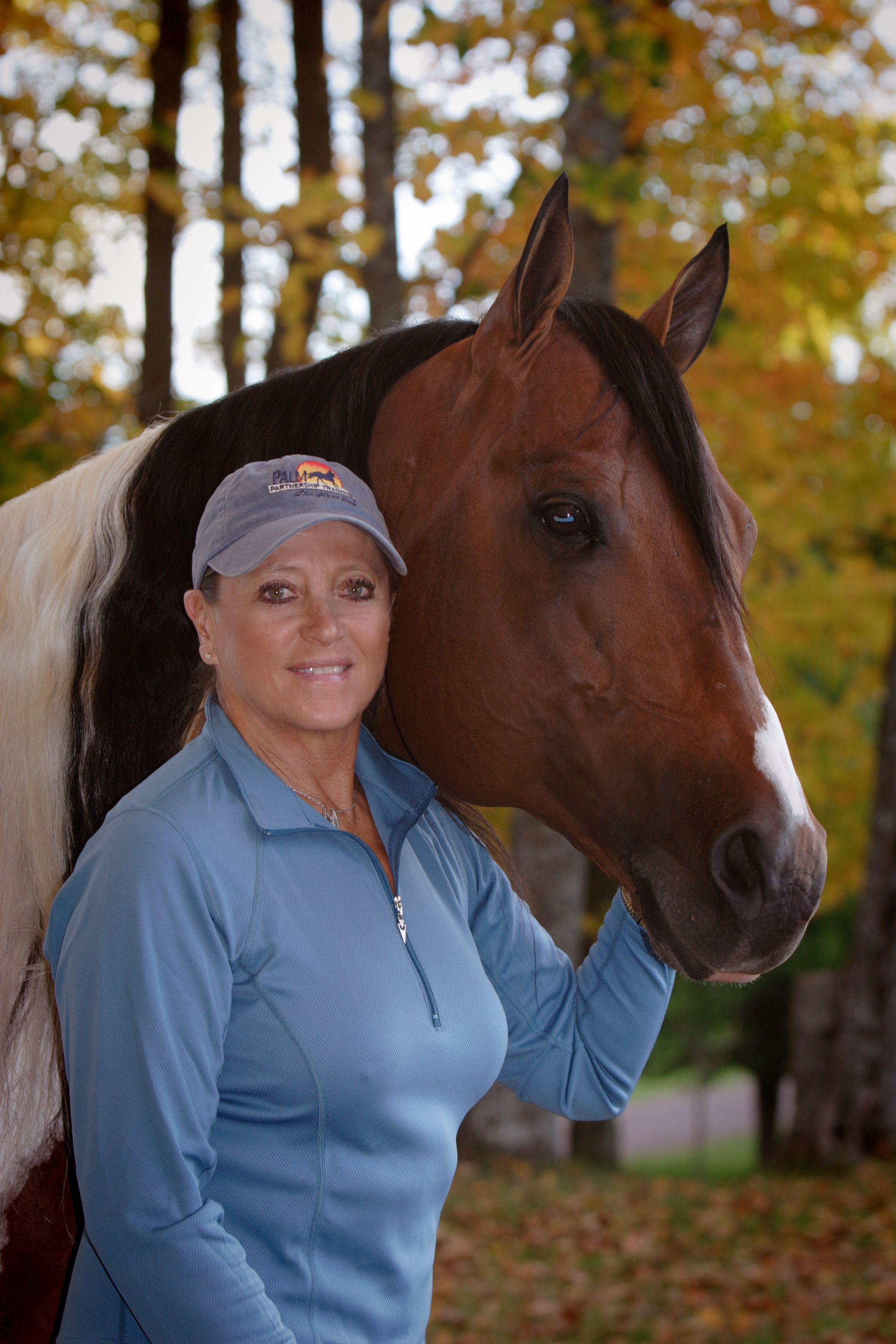 Lynn Palm and her American Paint Horse, Rugged Painted Lark, have been invited to the Gallery of Breeds at the 2017 FEI World Cup Finals in Omaha, NE March 29-April 2, 2017.
Rugged Painted Lark is no stranger to the spotlight. Bruce, as he is affectionately known, is a 1997 son of the famed American Quarter Horse, Rugged Lark. His stellar lineage coupled with Palm's careful training has earned Bruce a myriad of accolades. Some of those include entertaining at the 2010 World Equestrian Games' Equine Village, multiple magazine covers, coffee table books, television shows, bridleless performances at prestigious events and most notably, the 2007 BreyerFest Celebration Horse.
In the spirit of giving back to the equine industry, Palm has joined forces with The Dressage Foundation whose mission is to cultivate and provide financial support for the advancement of dressage in the United States. In doing so, proceeds from sales of the autographed 2007 limited edition Rugged Painted Lark Breyer models will be donated to The Dressage Foundation.
Jenny Johnson of The Dressage Foundation is pleased with this joint effort saying, "We would like to extend our sincere gratitude to Lynn Palm for offering to support The Dressage Foundation in this unique and exciting way! Rugged Painted Lark and Lynn Palm are excellent ambassadors for Western Dressage, a growing part of dressage in the United States. TDF has been able to support Western Dressage through grants awarded to groups hosting Western Dressage clinics and events, and we hope to continue our support for those riders!"
To learn more about Lynn Palm and Rugged Painted Lark visit www.lynnpalm.com.
About Lynn Palm
Palm's career highlights include 2007 American Quarter Horse Association (AQHA) Horsewoman of the Year, a record four AQHA Superhorse wins, AQHA Female Equestrian of the Year by the Women's Athletic Association, named one of the top United States clinicians by Horse & Rider magazine, over 34 AQHA World and Reserve World Champions, 7 WDAA World Championships and over 50 bridleless dressage exhibitions at events including the National Horse Show, 1989 World Cup and the 1996 Atlanta Olympic Games, and World Cup. Palm and Cyril Pittion-Rossillon are co-founders of three horse industry companies: Palm Partnership Training, Women LUV Horses, and Alliance Saddlery USA. Palm is the author of The Rider's Guide to Real Collection and Your Complete Guide to Western Dressage.
About Cyril Pittion-Rossillon
Pittion-Rossillon hails from Paris, France, where he earned his Riding Master Degree from the French National Equestrian School. With his extensive equine background and thirty years of experience, Cyril brings an ideal background to his instructor duties. His credentials include: Trained under members of French Olympic Team • French Junior Jumper Circuit • French Open Jumper Circuit (Levels 5 and 6) • Eventing Preliminary Division • AQHA & USEF Hunter Division • USEF Competition Youth & Amateur Coach• WDAA World and Reserve World Champion Coach • WDAFL High Point Winner Instructor and Coach • Co-Director and Instructor Palm Partnership Training Clinics • Co-Founder and Managing Director of Alliance Saddlery
About the FEI World Cup Finals
Equestrian sports' most prestigious annual indoor championship for jumping and dressage horses, the FEI World Cup™ Finals Omaha 2017 draws the top names in the sport from all over the globe. The FEI World Cup™ Finals Omaha 2017, the biggest event on this year's international equestrian calendar as 70 of the world's top riders representing 25 countries, including Olympic, World and European Champions, compete for the coveted titles in front of 60,000 fans from all 50 states and 20 countries.