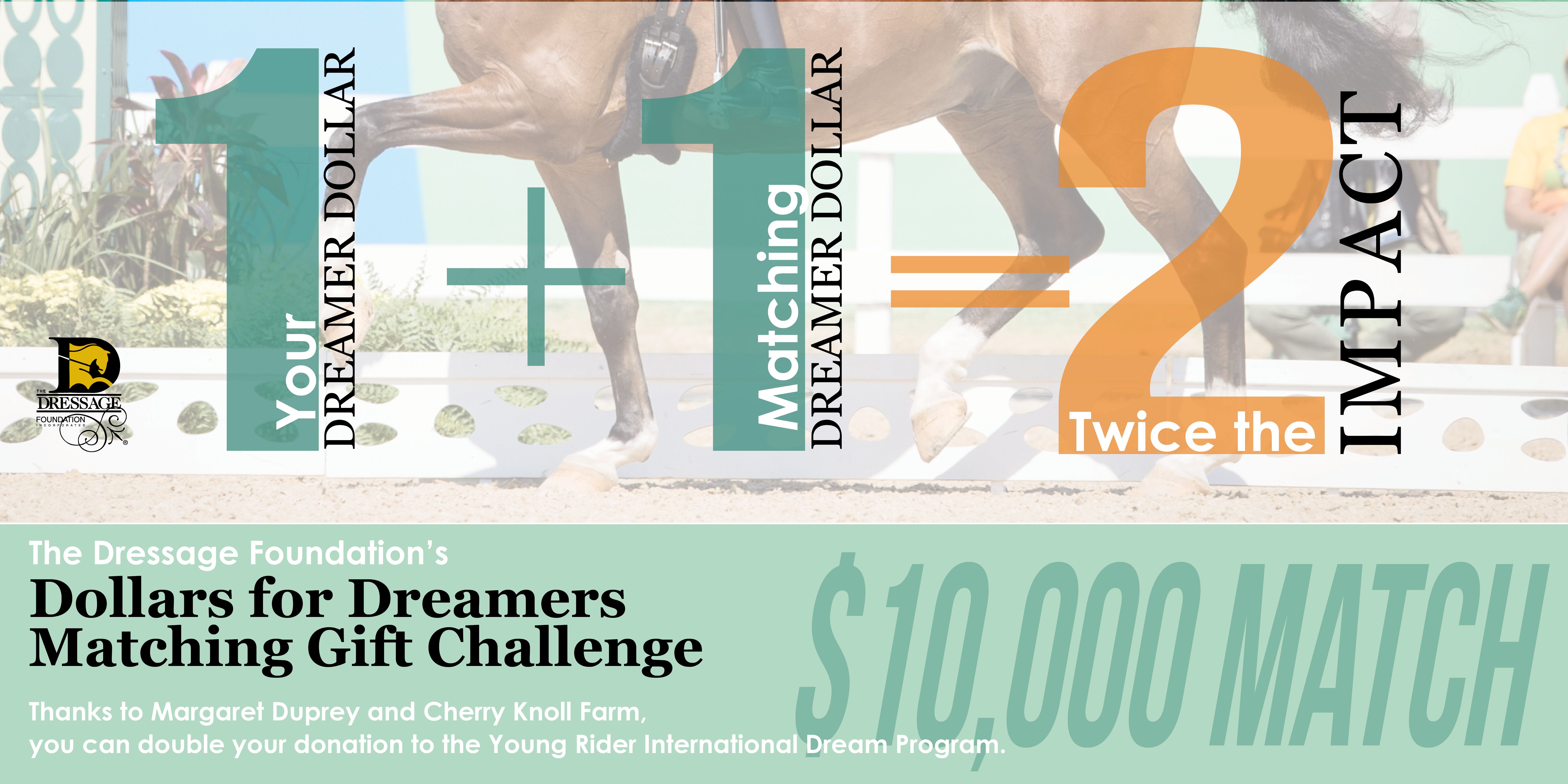 The Dressage Foundation is excited to announce that Margaret Duprey and Cherry Knoll Farm have generously offered a matching grant of up to $10,000 for TDF's Young Rider International Dream Program. All money raised for the Program this year, up to the $10,000 mark, will be matched dollar-for-dollar by Duprey for the 2018 trip.
The Dream Program sends four top young American riders to Europe for a week-long introduction to the elite standards of international dressage through observing and meeting with top dressage riders, instructors, and judges from around the world. Olympian Michael Poulin, creator of the Program, said,
"I believe that the experience fuels the power of the dream in young riders, by instilling the aspiration to be an Olympian."
Duprey emphasizes the power that the Program has to instill dreams, confidence, and success in young U.S. riders. She said, "Being able to see what the world has to offer, in terms of top international dressage, whets the appetite of young riders to learn more and become the best they can be."
Beth Baumert, TDF President & CEO and administrator for the Program shared, "The power of the Program is clear. Participants emerge with clear-cut visions of future career paths, and they march forward with confidence and lofty goals. By now, it's clear that these young riders emerge as leaders of our sport."
Just one of the many Dream Program success stories is that of Adrienne Lyle. Lyle was selected for the 2005 trip to Europe and said, "I was immediately impressed by the polished presence of the European young riders and how boldly they rode in the ring. This was the first time it really clicked that to be competitive, you can't stay conservative and in your comfort zone." Lyle went on to become a top U.S. rider and member of the 2012 U.S. Olympic Team. She continues her success in the High Performance arena today.
Donations for the "Dollars for Dreamers" matching gift campaign can be made online at https://dressagefoundation-org.presencehost.net/dollars-for-dreamers.html or by calling TDF at (402) 434-8585.