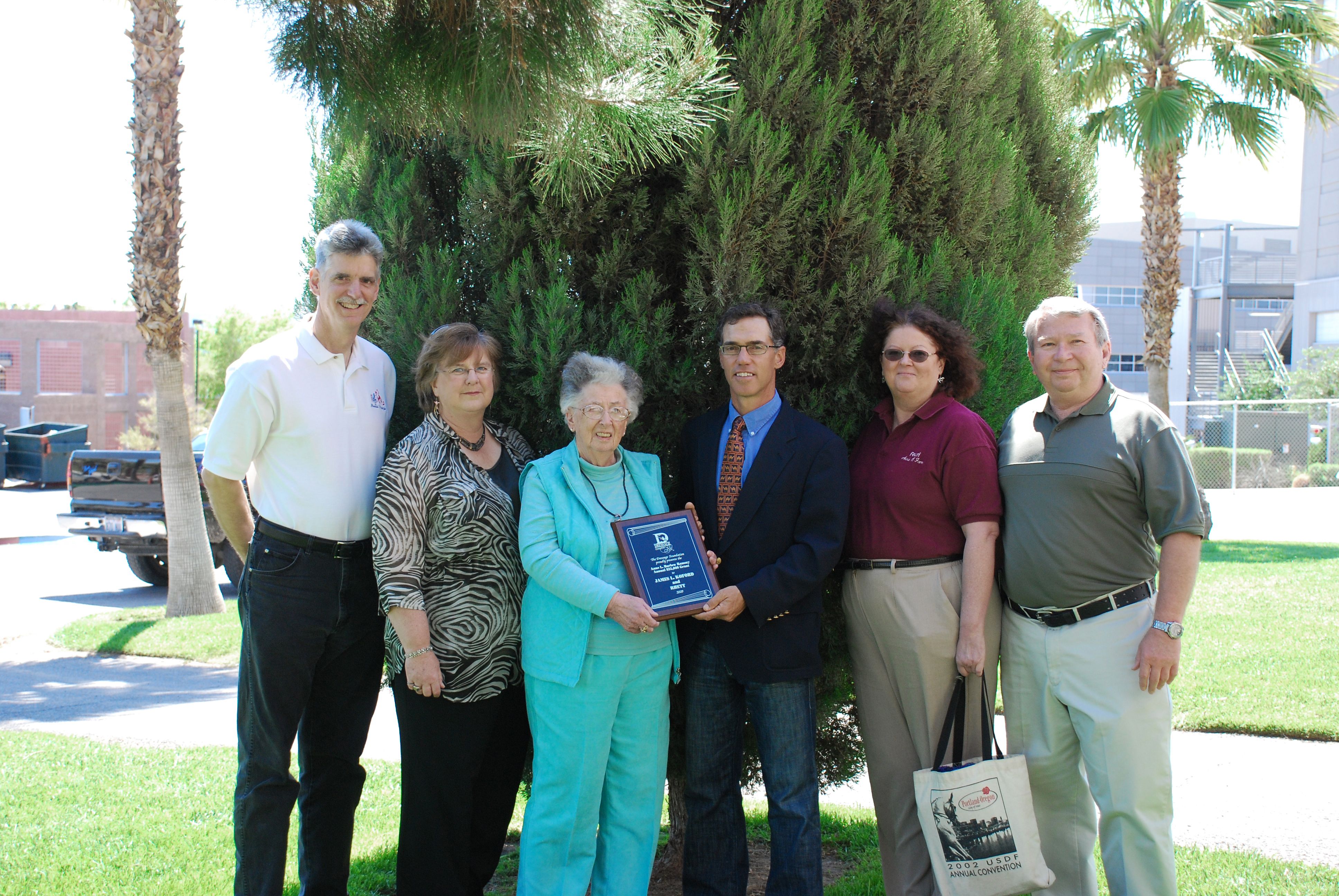 Photo: (L-R) Michael Matson, Lendon Gray, Dr. Ramsay, James Koford, Barbara Cadwell, Clay Teske
The Dressage Foundation is pleased to announce that the $25,000 Anne L. Barlow Ramsay grants will once again be available starting in 2018. The purpose of the grant is to showcase talented American-bred horses ridden by United States citizens, by providing money to train and compete in Europe.
Dr. Ramsay's passion and support of U.S.-bred dressage horses is exceptional. Through a Charitable Remainder Unitrust that she established with The Dressage Foundation in 1999, she created a Fund to provide $25,000 grants to support U.S. riders and U.S.-bred horses. From 2008-2014, the following recipients benefited from the funds in the first Unitrust, and each traveled to Europe for upper-level dressage training:
2008 – James Koford and Rhett, bred by Shirley McQuillan
2009 – Jennifer Williams and H.S. Wistar, bred by Charlene Summers
2011 – Liz Austin and Olivier, bred by Madeleine Austin
2012 – Lisa Wilcox and Pikko del Cerro HU, bred by Anne Sparks
2014 – Emily Miles and WakeUp, bred by Beverly McLean
The money from Dr. Ramsay's first Unitrust was used so successfully by the recipients, that in 2009, she established a second Unitrust to extend the impact of the grants for many years into the future. Those funds are designated to come to TDF in 2019, but Dr. Ramsay has pledged a generous gift to ensure that a grant can be awarded in 2018, as well.
Applications for the next $25,000 Anne L. Barlow Ramsay Grant will be due to TDF on or before October 25, 2018. Visit our website for information about the grants and the application form, or call us at (402) 434-8585 if you have questions.
For more information about the Anne L. Barlow Ramsay Grant or The Dressage Foundation, please contact Jenny Johnson at (402) 434-8585, by email at jenny@dressagefoundation.org.