The Dressage Foundation (TDF) is pleased to announce that grants from the Cynthia Aspden Youth and Young Adult Development Fund have been awarded to four young riders. This Fund provides up to $1,000 of financial assistance to youth and young adult riders (age 25 and under) to aid in their development in dressage
Hannah Morton, Thousand Oaks, CA: Hannah has been riding dressage since she was 14 years old. She is one score short of her bronze medal and is currently leasing a Grand Prix schoolmaster with the goal of earning her silver medal. Hannah is PATH certified and is a staff member at a therapeutic riding center. Hannah will use the grant funding for monthly lessons with Hilda Gurney.
"I am so grateful and excited to have been awarded the Cynthia Aspden Youth and Young Adult Development Fund. This funding will enable me to participate in a training opportunity that would otherwise be inaccessible and to continue pursuing my goal of earning my USDF Silver and Gold Medals."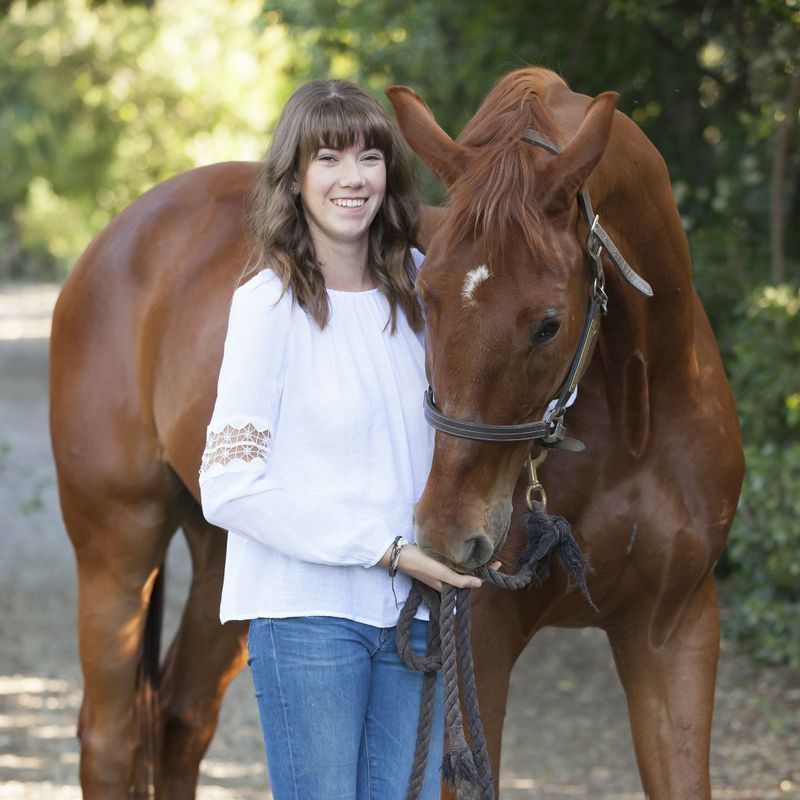 Rachael Tomczak, Sauk Rapids, MN: Rachael has been riding dressage for 16 years, is currently earning her scores for a silver medal, and is a working student for Kate Phillips. With the grant funding, she plans to train with Tyra Vernon in Ocala, FL, in January.
Rachael said, "I am honored to have been selected as a recipient for this grant. As a working student and a nursing student, funds to travel beyond my current training program are often in short supply. This grant will allow me to continue to follow my dreams by providing me with an opportunity to train with Tyra Vernon. With both Tyra and I being from northern Wisconsin, I'm grateful for the opportunity to learn from a professional who once started as a small-town girl with a big dream, just like me."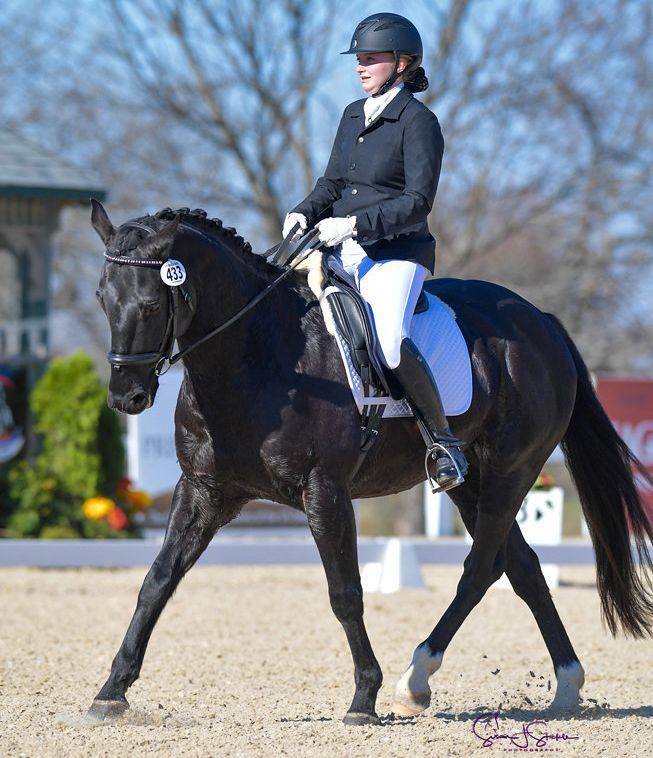 Photo by Susan J Stickle
Abigail Rowe, Boyds, MD: Abigail has been a member of the United States Pony Club for many years and has earned her bronze medal.  She also qualified and competed at the Festival of Champions in the Dressage Seat Medal Finals. Abigail plans to use her grant to help her attend the Dressage4Kids Winter Intensive Training program in Florida.
Abigail said, "I am in awe of the generosity of many who have put forward their own earnings to help make others' dreams come true. Grants like this are incredibly inspiring and teach me the value of 'paying it forward.'"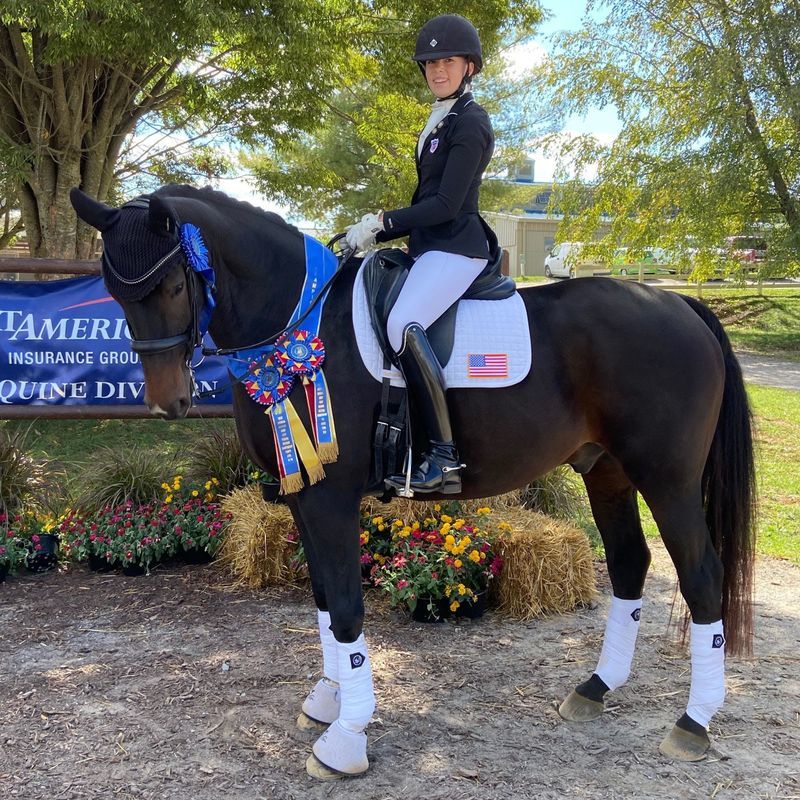 Quentin Sloan, East Greenwich, RI: Quentin has been riding for eight years and qualified for the Festival of Champions in 2019 where he scored a personal best at the FEI Children's level. Last winter, Quentin was a working student for Bill Warren and Bill McMullin in Wellington. Quentin plans on using his grant funds to attend the Dressage4Kids Horsemastership Clinic or Dressage4Kids TEAM clinics next summer.
Quentin said, "Thank you so much to TDF for this grant. My goal is to learn from the best at this clinic and to surround myself with the people I look up to and hope to become one day. I am determined to push myself to become the best horseman I can be. I believe that no matter who you are or where you are on your horse journey, you can always learn from the person sitting next to you. I intend to do just that; never stop learning and learn from those around me."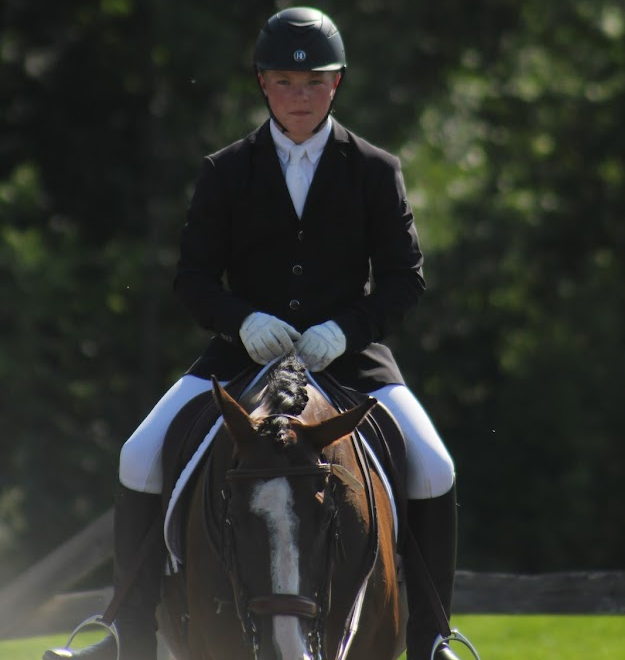 Photo by Josie Dechaine
The Cynthia Aspden Fund grant application is available here, with a deadline of September 1st of each year.  For more information about this Fund, visit www.dressagefoundation.org or contact Sara Weiss, Director of Grants and Programs, at (402) 434-8585 or sara@dressagefoundation.org. 
The Dressage Foundation
The Dressage Foundation is a 501(c)(3), non-profit, tax-exempt, donor-driven organization that is dedicated to educating, supporting, and advancing the sport of dressage. The organization solicits contributions, appropriately allocates the donations, and awards grants and scholarships to dressage riders, judges, instructors, breeders, high performance teams, and nonprofit equestrian organizations. For more information, please visit www.dressagefoundation.org.