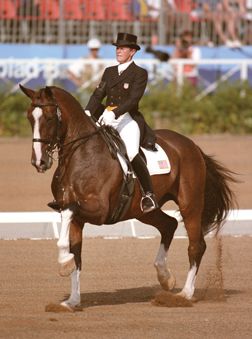 In loving memory of Carol Lavell
1943 - 2023
This week, as our social media feeds are flooded with stories of Carol Lavell, photos of her with Gifted, and so many memories shared, we are overcome with sadness of her passing. What Carol did for U.S. dressage on the biggest stages in the world was unequivocal. However, what she has done for the sport behind the scenes has bolstered her legacy to unmatched heights--Carol has made a lasting impact on dressage in our country that will carry on for generations.
For over two decades, Carol and her family have helped countless riders through grants from The Dressage Foundation. When the $25,000 Carol Lavell Advanced Dressage Prize was first created, she said, "I hope this Prize will smooth the bumps for deserving riders and horses on the road to their dreams." And then she shared a story about the work, sacrifices, and struggles she overcame to reach the top of the dressage world, highlighting those who helped her along the way.
"For most, obtaining financial support becomes the ultimate hurdle," said Carol. "Some find that this goal can only be achieved by competitive success. Yet, success cannot be without failure along the way: Gifted was last in his first European Grand Prix. I discovered that 'acceptance' was not my strong suit.
"When an international trainer announced at dinner, 'You know, Carol, your horse will never win a medal with you riding,' I got motivation! Being last was past, but it would take more time, more coaching, training, and more dollars.
"The road to the top is very difficult: some ways are bumpier than others, some are more crooked, and some are dead ends. My Olympic dream came true only because my road was paved with many generous supporters who gave not only dollars, but also tack, equipment, and even discounted transportation."
Carol's focus on helping others hasn't been limited to those with Olympic dreams. Through her support of numerous Grant Funds at The Dressage Foundation--including the Carol Lavell Advanced Dressage Prize, the Gifted Memorial Fund for Adult Amateurs, the Major Lindgren Grants for Instructors, the Michael Poulin Dressage Fund, the Edgar Hotz Judges Fund, the Patsy Albers Award, and the Jack Fritz Grants for Young Professionals--she has helped thousands of amateurs, youth, young professionals, judges, instructors, and so many more. Her support has been beyond compare.
May we all aspire to reach our dreams and help to pave the road for others along the way.