The Dressage Foundation (TDF) is pleased to announce that the 2023 Karen Skvarla Fund Grants for Young Professionals have been awarded to Samantha Bruha (MA) and Lori Kosareff (CA). Each will receive a $1,500 grant to pursue training or educational opportunities.
The Karen Skvarla Fund provides grants enabling dressage professionals, at the beginning stages of their careers, to pursue training or educational opportunities. The Karen Skvarla Fund selection committee especially looks for applicants who are eager to grow and improve, and who are fair and respectful to both students and horses.
Samantha Bruha is the manager/trainer of Wildstar Farm in Sherborne, MA. She works with 11 horses and has 32 students. Additionally, Samantha is in the process of becoming PATH Certified and teaches adaptive/therapeutic lessons. She has been a professional instructor since 2020. Samantha plans to work with Jodi Pearson-Keating weekly to help develop her young horse.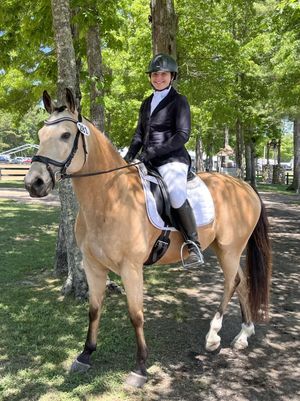 Samantha said, "I'm proud to be a recipient of the Karen Skvarla Fund grant. This opportunity to receive a high level of instruction and mentorship will not only enable me to reach my goals but will help my students continue to reach their goals. I'm incredibly thankful to TDF and look forward to giving back to the diverse equestrian community that I serve."
Lori Kosareff began her training career in 2019 and currently has 15 students and three horses in training. Included in Lori's training plan is a clinic with Kathleen Raine. Lori looks forward to using her experiences to help her students as they continue on their dressage journey.

Photo by Tamara with the Camera
Lori said, "I am so appreciative of this grant; words can't express the gratitude I feel. As a young trainer, this grant will be a great help for me to further my education for 3rd and 4th Levels. I hope to obtain my last two scores for my USDF bronze medal this year and start earning scores toward my silver medal."
The Karen Skvarla Fund for Young Professionals awards two annual $1,500 grants, with applications due on or before February 15th of each year. The application can be found at www.dressagefoundation.org.
For more information about the Karen Skvarla Fund or The Dressage Foundation, please contact Sara Weiss at (402) 434-8585, by email at sara@dressagefoundation.org, or visit www.dressagefoundation.org.
The Dressage Foundation
The Dressage Foundation is a 501(c)(3), non-profit, tax-exempt, donor-driven organization that is dedicated to educating, supporting, and advancing the sport of dressage. The organization solicits contributions, appropriately allocates the donations, and awards grants to dressage riders, judges, instructors, breeders, high-performance teams, nonprofit equestrian organizations, and more. For more information, please visit www.dressagefoundation.org.