Gifted Memorial Fund for Adult Amateurs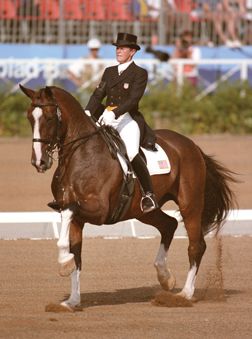 This Fund was seeded with donations received in special remembrance of Carol Lavell's great dressage horse, Gifted.  Its purpose is to "give permission" to adult amateur riders to set aside quality time, in concentrated training, away from the daily pressures of job and family. The recipients will be able to spend time bonding with their horses; grooming them, giving them a spa bath, grazing them, as well as receiving lessons that they normally wouldn't be able to have.
These grants are meant for adult amateurs to have the opportunity to be in an extended training situation (one week of concentrated training) that is different from their normal training plan.  Grants will not be awarded for clinics, camps, competitions or symposiums. 

Volunteerism is an important requirement for these grants; preference is given to applicants who have strong volunteer history with their GMOs. 
The best applications include a training program of 5-7 consecutive days with the same trainer.  However, it is not required that you travel away from home. Training plans must have reasonable, attainable goals.
Up to nine $1,500 grants are available each year (one in each USDF Region), plus two additional $1,500 wild card grants (which can be awarded in any Region).

Applicant Information:
Applicant must be US Citizen or Permanent Resident.
Applicant must be a member of a USDF Group Member Organization (GMO).
Applicant must own or lease the horse he/she would use for training. The lease must be documented with USDF or USEF. You will also need a written statement from the horse's owner that he/she will allow you to use the leased horse for this training, as outlined in your application. Include information about how long you have been leasing and what your future plans are with the horse. 
A rider may receive this grant only one time.
Additional Grant Information:
Funding cannot be used for competition entries, vet and/or farrier expenses, or the purchase of a horse or equipment. 
The committee reserves the right to not award a grant in any given year if they determine that no candidate has met the criteria.  The applications and discussions of the selection committee are confidential and their decisions are final.
If the grant recipient is unable to attend the specified event/training, TDF must be notified as soon as possible. Approval for a change in the use of funds is at the discretion of TDF and the grant Selection Committee.
Applications must be received on or before September 15th of each year. 
The link to the online application form can be found in the right-hand sidebar (desktop computers) or by scrolling down (mobile).