Team Tate Mentorship and Leadership Fund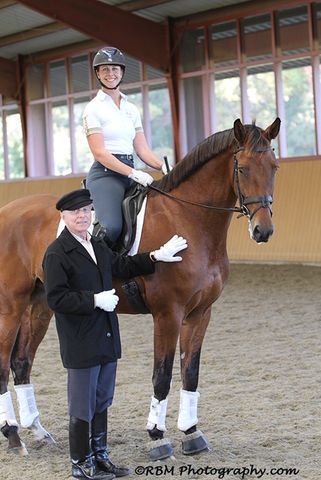 The Team Tate Mentorship and Leadership Grant Fund was established at The Dressage Foundation by the Tate Family in 2020.  Throughout her dressage career, JJ Tate has shown dedication to continuing her education by participating in programs that improved and enhanced not only her riding and training skills, but also her ability to run a successful business.

The Tate Family believes strongly that participation in mentorship and leadership programs can lead to a successful business and life.  However, training, teaching, and competition schedules, as well as finances, make it difficult for dressage professionals to find time and resources to focus on personal growth, leadership, and business skills.

Therefore, the goal of this Fund is to provide funding for recipients to work with their dressage mentors to improve their equestrian skills and/or to receive business, leadership, or coaching education.  These training opportunities should help riders develop skills that will enable them to become more well-rounded and successful professionals.

Applicants may apply for financial support for:

1.  Business or personal development programs – to focus on skills necessary to improve business, communication, or leadership skills.  Programs can include opportunities such as leadership events and programs, personal coaching, business classes, etc.

AND/OR

2.  Dressage training with a mentor – to improve skills as an equestrian (instructor, trainer, clinician, etc.).  Applicants must have a history of working with their mentors.  This should be a true mentorship – someone who has already been a trusted adviser to the applicant for a period of time.

Applicants, we encourage you to consider these questions about your training programs:

What business, communication, and/or leadership skills do you need to develop?  What programs (within or outside the equestrian community) will enable you to improve in these areas?  What can you do with the grant money that will bolster your relationship with your mentor, leading to new experiences and ideas for your future?  What do you want to gain from time with your mentor?

Applicant Criteria: 
Must be a U.S. Citizen or Permanent Resident. 
Must be at least 25 years old.
Must be a professional in the dressage community, to include instructors, trainers, and clinicians.
Must be a demonstrated team player through volunteer work, donating resources, or hosting educational events to help their dressage community.
Grant Amount:
At this time, one grant of up to $5,000 will be available each year to a qualified applicant chosen by an independent selection committee.  
Additional Information:  
Funding cannot be used for vet and/or farrier expenses, living expenses, or the purchase of a horse or equipment.  
An individual can only receive a grant from this Fund one time.
The committee reserves the right to not award a grant in any given year if they determine that no candidate has met the criteria. Funds would then be held until the following year.  The applications and discussions of the selection committee are confidential, and their decisions are final. 
If the grant recipient is unable to attend the program specified in their application, The Dressage Foundation must be notified as soon as possible. Approval for a change in the use of funds is at the discretion of The Dressage Foundation and the grant selection committee. 
The online application form and all required documents must be submitted to The Dressage Foundation on or before July 15th of each year. 
 The grant must be used for training and events that fall after the application deadline of July 15th and within one year of that date.  
The application link can be found in the right-hand sidebar (desktop) or by scrolling down (mobile).
---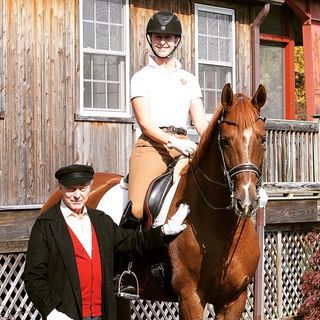 I have been very fortunate to have a strong supportive network of trainers, family and clients who have helped me develop as a trainer and as a person. I believe that being successful in our sport requires a lot more than just good riding. My dad, Joe, has always been a huge inspiration to me for self-growth and development, and we would love to share that opportunity with others.  We hope this grant will help people further not only their depth of relationships with their mentors, but also to further their education; whether that be through personal development and growth or better business skills.

I had the wonderful opportunity to meet Charles de Kunffy when I was 11 years old, and through that relationship, I have built an incredible bond with him over the last 30 years. He has not only helped me develop my equestrian skills, but also my character. I am honored to call him my mentor and I hope people can find these important relationships in their own lives to further their life experience. -- JJ Tate