Anne L. Barlow Ramsay $25,000 Grant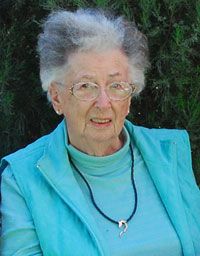 The Anne B. Ramsay Grant Fund was established at The Dressage Foundation in 2008 by Dr. Barlow Ramsay to fulfill her desire to support U.S.-bred horses that are competing on the international dressage stage.  Since 2008, ten recipients have been awarded a grant for training or competition, including those who have successfully competed at the highest level of sport.
Grant Information:
The purpose of the Anne L. Barlow Ramsay Grant is to showcase talented American-bred horses ridden by United States citizens by training and competing in Europe or Wellington, Florida. The horse and rider applicants will be competing successfully at Prix St. Georges or higher, and demonstrate an ability to move forward into High-Performance competition. A Selection Committee comprised of distinguished, experienced dressage leaders will review the applications, and choose the recipient, subject to the approval of TDF's Board of Directors.
Applicant Criteria:
Must be a U.S Citizen and must be at least 18 years old.
Horses must be bred in the United States. 
Must be competing successfully at Prix St. Georges or higher. 
Must demonstrate the ability to be an ambassador for the American-bred horse. 
Additional Information:
Funding cannot be used for the purchase of a horse or equipment.
The committee reserves the right to not award a grant in any given year if they determine that no candidate has met the criteria. Funds would then be held until the following year.  The applications and discussions of the selection committee are confidential and their decisions are final.
If the grant recipient is unable to attend the program specified in their application, The Dressage Foundation must be notified as soon as possible. Approval for a change in the use of funds is at the discretion of The Dressage Foundation and the grant selection committee.
The grant must be used for training and programs that fall after January 1st of the following year and within 2 years of that date. 
Applications must be received by our office on or before August 15 of each year to be considered. No late applications will be accepted.  
Past Recipients:
2008: James Koford and Rhett, bred by Shirley McQuillan
2009: Jennifer Williams and H.S. Wistar, bred by Charlene Summers
2011: Liz Austin and Olivier, bred by Madeleine Austin
2012: Lisa Wilcox and Pikko de Cerro HU, bred by Anne Sparks
2014: Emily Miles and WakeUp, bred by Beverly McLean
2018: Adrienne Lyle and Harmony's Duval, bred by Harmony Sporthorses
2019: Carly Taylor-Smith and Rosalut NHF, bred by North Hill Farm
2020: Emily Smith and Quantum Jazz, bred by Judy Yancey
2021: Lindsey Holleger and MW Ave Maria, bred by Nancy Holowesko
2022: Genay Vaughn and Fleur Noir WSHS, bred by Lawrence and Janet Jones
About Dr. Anne L. Barlow Ramsay
Born in England in 1925 and graduated from the University of London with an M.D. equivalent, Dr. Barlow Ramsay also earned a diploma in Child Health from Royal Colleges in England, and a Masters of Public Health from Yale. She moved to Canada in 1951 as a Rotary Foundation Fellow. In 1963, she joined Abbott Laboratories as a medical writer and rose to become Vice President of Medical Affairs for the Hospital Products Division. In 1984, she launched her own consulting business in pharmaceutical research. Dr. Barlow Ramsay served on many boards including the President of the American Medical Women's Association.
Dr. Barlow Ramsay was a horsewoman for over fifty years and owned Annie B Farm, a sport horse breeding operation, with her daughter, Barbara Cadwell. Dr. Barlow Ramsay and her horse, Fridjoff, proudly rode for membership into TDF's Century Club in 2003 as Team #27. Dr. Barlow Ramsay's dream to advance equestrian sport took shape in 1998 when she established a Charitable Remainder Unitrust at TDF. She wanted to provide financial backing for a designated horse and rider with a ten-year income stream. Through this Unitrust, there have been many beneficiaries. Her horse and rider had the support of a ten-year income stream through monthly payments, Dr. Barlow Ramsay gained solid tax advantages by avoiding the federal and state capital gain taxes on the appreciated value of the stock, and she received a substantial charitable contribution income tax deduction, thereby reducing her income tax payable.
Finally, the sport of dressage will continue to benefit through annual $25,000 grants to support upper-level training and competition for American-bred horses. The funds from Dr. Barlow Ramsay's first Unitrust were used so successfully by the grant recipients, that in 2009, she established a second Unitrust with TDF to extend the impact of her grants for many years to come.