$25,000 Carol Lavell Advanced Dressage Prize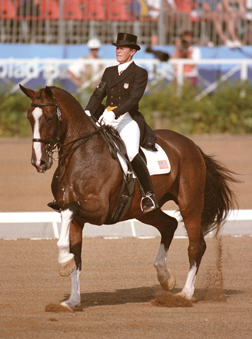 The Carol Lavell Advanced Dressage Prize was initially funded by Carol Lavell, her friends and family, in special remembrance of her mother, May Cadwgan, and in honor of her father, Gordon Cadwgan. Up to two prizes will be available annually in the amount of $25,000 each, to riders who are US citizens, over 21 years of age, and are selected by a distinguished national panel of Dressage leaders. Selection criteria are merit and need.

Carol Lavell has achieved high marks in all phases of dressage – an Olympian, rider, competitor, trainer, teacher, judge – and with her legendary horse, Gifted, brought pride and honor to our country through her performance on the 1992 United States Olympic Team. Carol Lavell knows first hand of the work, sacrifice and struggle necessary to make it to the top of the dressage world. Through the creation of this $25,000 annual Prize, she wants to help other deserving riders who aspire to climb this high performance mountain.
Applications must be received by our office on or before December 15th of each year to be considered. No late applications will be accepted.  (Exception for 2019 -- Since the 15th falls on a Sunday, we will accept applications delivered to our office on Monday, December 16th.)

The application link can be found in the right-hand sidebar (desktop computers) or by scrolling down (mobile).
Past Recipients
2009: Jan Brons 
2010: Courtney King-Dye
2011: Shawna Harding
2012: Heather Mason
2013: Adrienne Lyle and Sharon McCusker
2014: Brian Hafner and Kathleen Raine
2015: Olivia LaGoy-Weltz
2016: Laura Graves
2017: Sabine Schut-Kery
2018: Alyssa Pitts and Sabine Schut-Kery
2019: Lehua Custer