Carolyn Van Cise Fund for Michigan Youth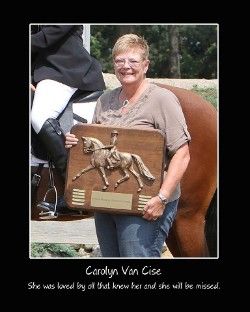 The Carolyn Van Cise Fund for Michigan Youth was established at TDF in 2014 by Carolyn's friends and family, to benefit youth and young adult riders from Michigan. Carolyn was active in Michigan's dressage community for many years as a trainer, instructor, judge, and mentor. Dressage was her passion and she served as a role model for those she knew. In addition to serving in many roles for the Midwest Dressage Association, including President, Carolyn was also very active in her community and church. Carolyn passed away on March 31, 2014.
Grants:
A Carolyn Van Cise Memorial Sportsmanship Grant will be awarded annually to a youth or young adult rider (25 or under as of December 1st of the current year) who is a current Michigan resident and best exemplifies the qualities that Carolyn found most important in life, including exhibiting the characteristics that demonstrate positive sportsmanship principles.

Recipients of this grant will receive $1,000 which can be used to cover the recipient's personal expenses associated with attending a specific educational dressage or eventing event of their choice (Western dressage riders are welcome to apply).
Applicant must be a U.S. Citizen or Permanent Resident.
Applicant must be an active GMO member for at least 6 months before applying.
The online application form and all required documents must be submitted to TDF on or before February 10th. A final decision will be announced in March. 
The event must occur between March 1st of the year in which the application is submitted and the end of March the following year (i.e., an application submitted 2/10/21 must be for an event occurring between 3/1/21 and 3/31/2022).
Funding cannot be used for competition entries, vet and/or farrier expenses, or the purchase of a horse or equipment. Funding must be used for the event/training specified in the grant application.
A rider may not receive the grant in consecutive years.
The committee reserves the right to not award a grant in any given year if they determine that no candidate has met the criteria. Funds would then be held until the following year. The applications and discussions of the selection committee are confidential and their decisions are final.
If the grant recipient is unable to attend the specified event/training, TDF must be notified as soon as possible. Approval for a change in the use of funds is at the discretion of TDF and the Grant Selection Committee.
Please review the requirements and guidelines before applying for the Carolyn Van Cise Memorial Sportsmanship Fund.