Team #447 Judy Ward and Clark Kent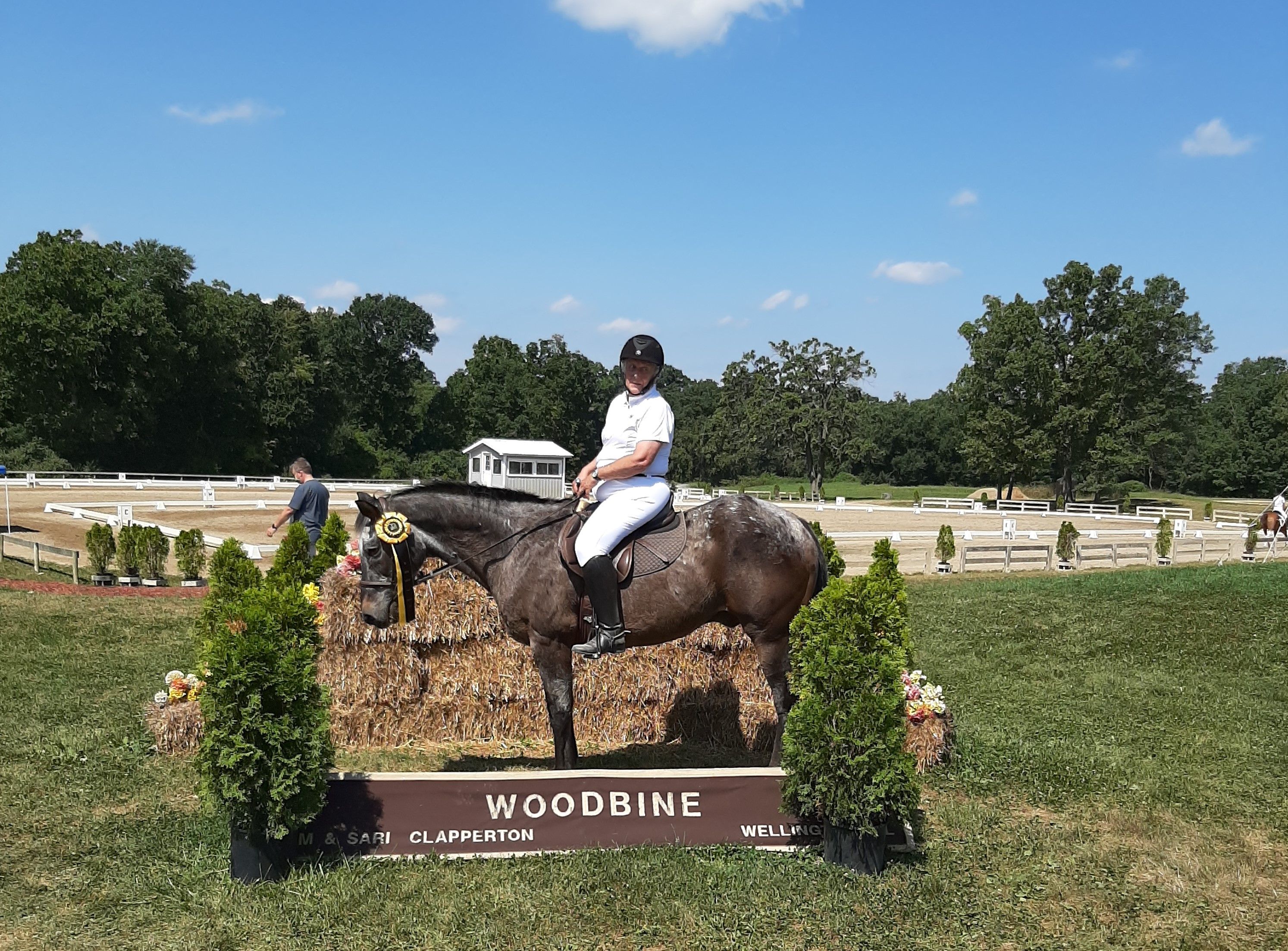 #447 – Judy Ward and Clark Kent
Ages: 80 and 25
Combined Age: 105
I have been a lover of horses ever since I can remember.  My family could not afford a horse for me, but I was able to find people who would let me ride their horses as I was growing up.  When I was 30 I bought my first horse, an Appy named Grand Prix.  We did "C" hunter/jumper shows in the 1970s.  In 1980, I felt Grandi was getting too old to jump, so my husband and I bought a small farm where Grandi could retire.
For the next 20 years I basically trail rode, but in the back of my mind, I always wanted to event.  I retired from teaching in January 2000 (after 30 years at Beach Middle School in Chelsea, Michigan).  At age 60 I returned to taking jumping lessons.  An older friend, Glenda Livengood, asked me to train a little horse named Kent.  Glenda was an active member of the Waterloo Hunt Club, so I was able to take Kent fox hunting.  The Hunt Club fell in love with Kent and several riders wanted to buy him.
I asked Glenda if I could buy Kent, but Glenda did not think he was showy enough to event.  The two of us went to a horse dealer where we found a starving horse with a good show record.  Glenda asked me to buy that horse with the promise if he did not work out, she would give me Kent.  I renamed this poor starving animal "I Can," short for "I Can Do It."  We actually won at a couple of small shows and then he would just fall apart.  After six years of trying to rescue him, I had I Can put down at Michigan State University Vet Hospital.  The autopsy revealed that he had fractured bones deep within his body that the x-ray machine could not detect.
Kent continued to improve because he was so quiet and willing to do anything I asked him to do.  I added "Clark" to his name.  The plain old Kent became Clark Kent.  If I could remember where I was going and did not fall off, we would be in the ribbons at the Beginner Novice level.  We even came home with a green ribbon from the Kentucky Horse Park.
Because so many people let me ride their horse as a kid, I let several students of Amy Riske's use Kent in 4-H.  One young lady even took the championship in the Starter Division of eventing.  Clark Kent has been used extensively for handicapped riding and twice was recognized as "Handicap Horse of the Year" at Sitting Tall Camp.  He has taken my friends for safe and quiet trail rides over all types of terrain for many years.
Ten years ago I bought a big, powerful horse named Mystical Design.  Unfortunately, he is going blind.  I have temporarily borrowed back Kent from my trail riding friends.  I must say, these three wonderful friends have kept me sane during the pandemic.   We know Clark is over 20, if not 30.  He came through the auction system without a birth certificate.  I turned 80 this August, so we signed up for our Century Club Ride.

In Training Level Test 2, we finished in 3rd place out of nine horses with almost 65%.
Life is a journey and so many people have assisted me along the way; my deep personal thanks to all of you,
To:  Amy Riske who owns Misty Meadows in Manchester, Michigan, and lets me board every winter and has helped me in countless ways.
To:  Jennifer Brooks (Equine Jenn) who helped and encouraged me to event Kent.
To:  Sue Moessner at Paragon Farms who patiently gave me jumping lessons and trailered Kent to the Kentucky Horse Park.
To:  All my friends and spectators who have cheered me on and had a good laugh at some of my boo-boos.  Thanks again to all of you.
To:  My special friends, Alice Rhodes and Julie Nelson, who provided the cake and are with me in spirit.
To:  My wonderful neighbors who let me ride on their land with beautiful woods and fields.
To:  Abby, Abby, and Lee who helped serve wine and cake.
To:  Lauri Von Hofe who loves Kent dearly and who helps me care for him in all kinds of weather.
To:  Joann Masters, my deceased companion who is with me in spirit.
A thank you to my suffering husband who has patiently endured my passion – most of the time.
A special thanks to Woodbine Farms for allowing me to participate in this Century Ride.
Judy and Clark Kent rode Training Level Test 2 to complete their Century Club ride on August 23, 2020.