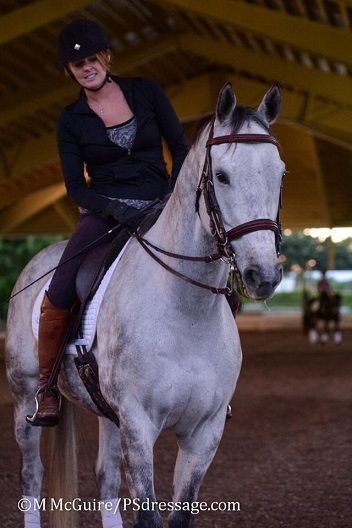 Pictured: Holly Johnson on Booksense, credit to MMcGuire/PS Dressage
The Dressage Foundation has announced that Holly Johnson (FL) is this year's recipient of a grant from TDF's Heldenberg Training Center Fund. Holly will receive $2,750 to attend the Spanish Riding School's Training Center in Heldenberg, Austria.
Ralph and Freddie Dreitzler established the Heldenberg Training Center Fund in memory of E.L. Dreitzler, in conjunction with Andreas Hausberger, Chief Rider at the Spanish Riding School and Director of the Training Center in Heldenberg. The purpose of the fund is to provide financial assistance to North American, non-professional riders to participate in educational sessions and training in Heldenberg.
Holly plans to attend a Theoretical Course at Heldenberg, which will include instruction about the proper seat, correct aids, lunge work, training stages of the horse and rider, and the history of the Spanish Riding School. She said, "I am thrilled and honored to be selected for this grant. It is an incredible opportunity, and I am so grateful to The Dressage Foundation and the Dreitzler family for making this possible."
"It is our hope that many people will benefit from this scholarship opportunity and the wonderful training opportunity that is being presented by the SRS with opening its doors to outside students to study with the Riders of the SRS," said Ralph Dreitzler. "We also welcome any donations that are made to further advance this scholarship program from other dressage enthusiasts."
For application and donation information for the Heldenberg Training Center Fund in Memory of E.L. Dreitzler, click here.