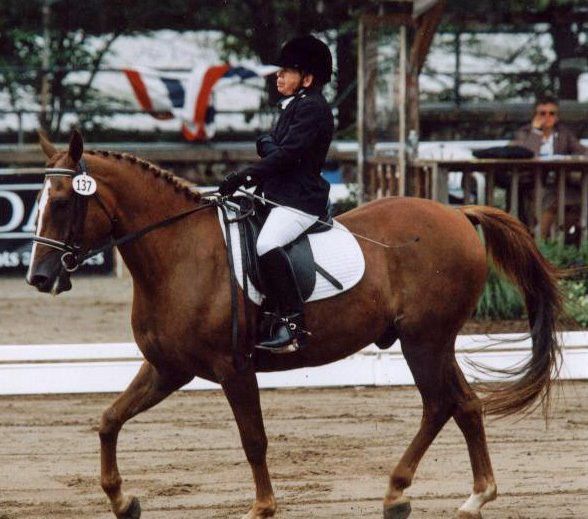 The Dressage Foundation (TDF) would like to extend special thanks to PATH International for their generous support of TDF's new Para-Equestrian Dressage Fund. 

PATH International (Professional Association of Therapeutic Horsemanship) established the Margo O'Callaghan Competition Fund in 2006, in memory of Margo, a para-dressage rider from Washington.  Margo suffered a massive stroke at the age of 29 and found that therapeutic riding helped her make significant improvements with her balance and coordination.  Her instructors introduced her to dressage and Margo became a successful Grade 2 para-equestrian.   

In an effort to continue helping para-dressage riders across the country, PATH International made a donation from their Margo O'Callaghan Competition Fund to TDF's Para-Equestrian Dressage Fund.  The Funds have similar goals and now, thanks to PATH International's generous gift, more para-dressage riders will receive financial help for dressage training. 
 
"The purpose of the Margo O'Callaghan Competition Fund has always been to support para-dressage riders in their quest for improvement.  PATH Intl. is pleased that Margo's spirit and legacy will continue to live on through The Dressage Foundation's Grant Fund, supporting para-dressage riders from all over the country," said Kathy Alm, CEO of PATH International. 
 
Jenny Johnson, TDF's Executive Director, shared, "The Dressage Foundation is honored to continue Margo's legacy through grants to para-dressage riders.  She was a determined and hardworking rider who personally experienced the benefits of riding and competition as a para-equestrian.  We are grateful to PATH International for this wonderful support." 
 
The purpose of TDF's Para-Equestrian Dressage Fund is to provide financial support for para-dressage riders to attend educational events that will enable them to receive training to help them reach their riding and competition goals.  Make a donation here.