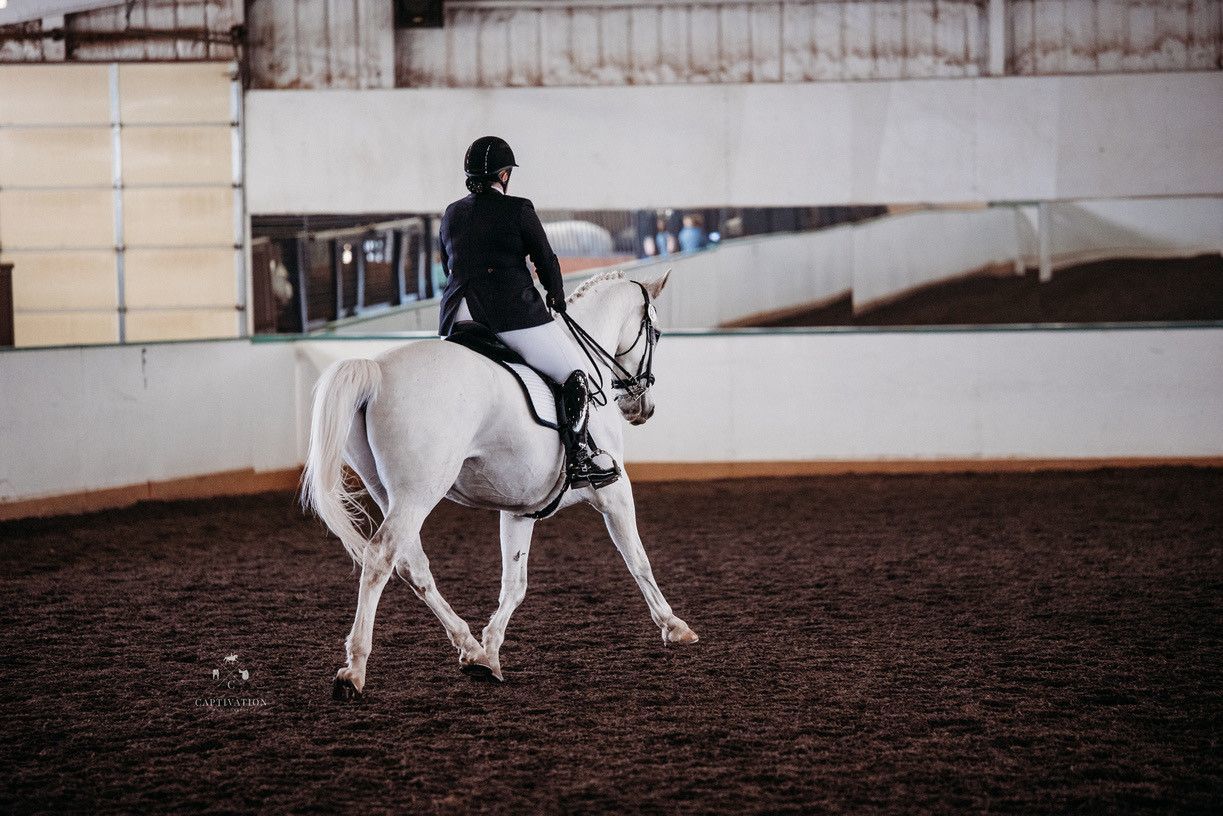 The Dressage Foundation is pleased to announce the recipient of the $795 Evie Tumlin Memorial Fund Grant for Region 9 Adult Amateurs, Molly Ralstin (OK).  The purpose of the Evie Tumlin Memorial Fund is to provide grants to Adult Amateur riders who currently reside in USDF Region 9, to aid in their development in dressage and/or eventing.
Molly, a member of Oklahoma Dressage Society and Central Plains Dressage Society, will use the funding to participate in the USDF "L" Education Program, Part 1. Molly also hopes to qualify for Regionals this year in Third and Fourth Level.
Molly said, "Receiving this grant means I have more opportunities to gain education and apply this new knowledge to my training as I represent Region 9 as a competitor. I'm so grateful for this opportunity! I look forward to sharing my experience and insight through The Dressage Foundation!"
Evie Tumlin was an integral part of her Region 9 dressage and eventing community. Throughout her years of serving and helping others, she touched many lives and helped to raise several generations of young men and women who loved horses. This Fund was established in memory of Evie by her friends and colleagues in Region 9.  Grants are for educational experiences that will further the applicant's knowledge of dressage and are in addition to the applicant's typical training plan. The grant application deadline is March 1st of each year.
Donations to support Region 9 Adult Amateurs through the Evie Tumlin Memorial Fund are welcome.  Information and online giving are available at www.dressagefoundation.org.
For more information about the Evie Tumlin Fund for Region 9 Adult Amateurs or The Dressage Foundation, please contact Sara Weiss, TDF's Director of Grants and Programs, at (402) 434-8585 or visit www.dressagefoundation.org.
The Dressage Foundation  
The Dressage Foundation is a 501(c)(3), non-profit, tax-exempt, donor-driven organization that is dedicated to educating, supporting, and advancing the sport of dressage.  The organization solicits contributions, appropriately allocates the donations, and awards grants to dressage riders, judges, instructors, breeders, high performance teams, nonprofit equestrian organizations, and more.  For more information, please visit www.dressagefoundation.org.  
Photo provided by Captivation Photography