Evie Tumlin Memorial Fund for Region 9 Adult Amateurs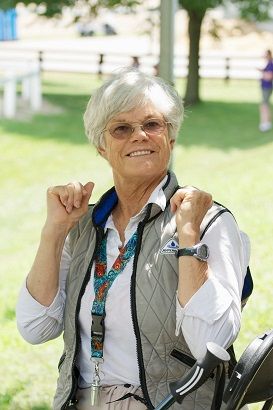 Evie Tumlin was an integral part of her Region 9 dressage and eventing community. Throughout her years of serving and helping others, she touched many lives and helped to raise several generations of young men and women who loved horses. This Fund was established in memory of Evie by her friends and colleagues in Region 9. Among her many accomplishments, Evie was the founder of the Mississippi Eventing and Dressage Association, named the 2010 Region 9 Horseperson of the Year, was a USDF L Program Graduate, received her USDF silver medal, and was a member of TDF's Century Club. She was a much-loved instructor and trainer in Mississippi and even worked with the Oxford Mounted Police unit.
Grants:
The goal of the Evie Tumlin Memorial Fund is to provide financial assistance to Adult Amateur riders who currently reside in USDF Region 9, to aid in their development in dressage. Grants will typically range in the amount of $500-$1,000, to be used for educational experiences that will further the applicant's knowledge of dressage and are in addition to the applicant's typical training plan. These events may include camps, clinics, riding lessons, etc. Additional consideration will be given to riders who also participate in eventing, as well as to those who have a history of volunteer work related to dressage and/or eventing.
Additional Grant Information:
Applicant must be a U.S. Citizen or Permanent Resident.
Funding cannot be used for competition entries, vet and/or farrier expenses, or the purchase of a horse or equipment. Funding must be used for the event/training specified in the grant application.
A rider may not receive the grant in consecutive years.
The committee reserves the right to not award a grant in any given year if they determine that no candidate has met the criteria. Funds would then be held until the following year. The applications and discussions of the selection committee are confidential and their decisions are final.
If the grant recipient is unable to attend the specified event/training, TDF must be notified as soon as possible. Approval for a change in the use of funds is at the discretion of TDF and the Grant Selection Committee.
The online application form and all required documents must be received by TDF on or before March 1st of each year. A final decision will be announced by April 30th. 
The grant must be used for an event that falls after April 30th of the year in which you apply and must be used by April of the following year.