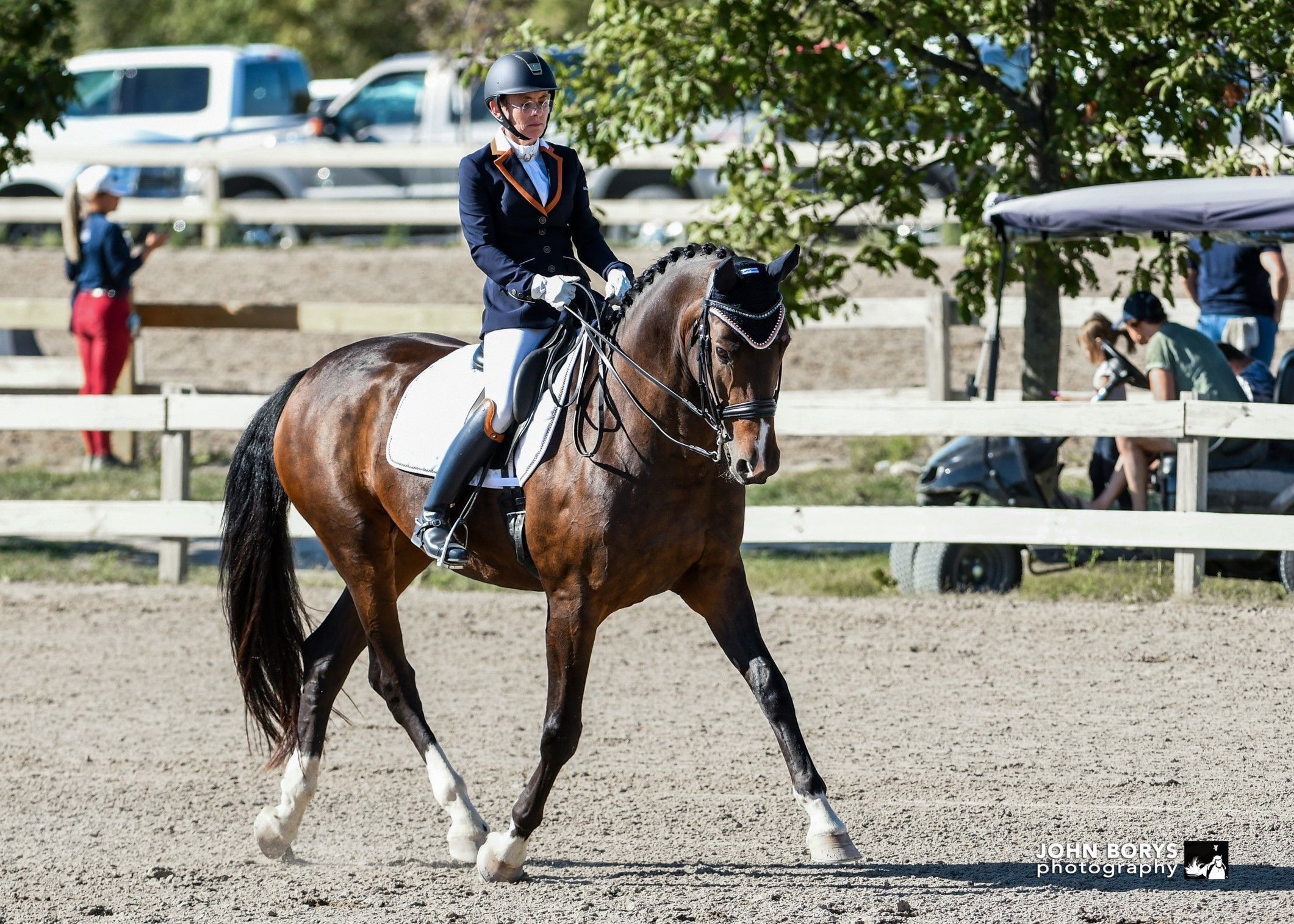 The Dressage Foundation (TDF) is honored to announce the first recipient of the Jane Savoie Fund for Adult Amateurs. Denise Jostes (MN) will receive a $5,000 grant to train for six weeks with FEI trainer Brian Hafner, 2016 recipient of TDF's Carol Lavell Advanced Dressage Prize.
Denise said, "The opportunity to travel down to Ocala, Florida, next winter to train with Brian Hafner is a dream come true. I am confident that he will be able to teach me how to develop my horse, Foundex, into a proud and self-confident Prix St. Georges partner. Beyond this though, is the true honor of being selected as the first recipient of the Jane Savoie Fund grant. TDF's belief in my abilities to represent Jane's ideas is worth more than any of my previous achievements in the saddle. For that, I am beyond grateful and truly honored."
Denise is a USDF bronze and silver medalist and 'L' Program graduate. Growing up in Germany, Denise worked in a stable in exchange for riding lessons. As a teenager, Denise read Jane Savoie's That Winning Feeling, which inspired Denise to continue to work toward her goals. After raising her children and riding whenever possible, Denise said now it's her time to focus on dressage and her goals with Foundex.
"Jane Savoie was as committed to the foundations of our sport as anyone I've ever known," said Beth Baumert, TDF's President and CEO. "She taught countless riders, from beginners to Olympians, each with the same endless enthusiasm, kindness, wisdom, and systematic theory. TDF is honored to annually award a Jane Savoie grant to an adult amateur who exemplifies Jane's spirit. There were many applicants this year, but Denise emerged clearly as the inaugural recipient of Jane's award. Endless thanks to the donors who enable TDF to award this grant so that Jane's influence will go on and on and on."
Rhett Savoie, Jane's husband, shared, "It was heartwarming to see the number of applicants for this grant in Jane's memory.  Jane was always appreciative of the feedback she got from the students and audiences that she connected with and I'm sure she would feel the same about the many applicants for the grant. I would also like to thank the members of the selection committee for their time and effort to go through the many applications and videos to evaluate each one.  This grant means a lot to me, personally, as well.  Thank you all for your support."
The Jane Savoie Fund for Adult Amateurs was established in 2021 by Jane's family and friends in memory of her lifelong love of horses and career as a trainer, teacher, author, and motivational speaker.  A grant of up to $5,000 will be awarded from the Jane Savoie Fund to an adult amateur rider of any age, who is training any breed of horse at 4th Level or Prix St. Georges, and who reflect Jane's ethos of developing each horse to its potential. These grants are intended to represent Jane's belief that financial help of this magnitude will enable the recipients to achieve knowledge and training that would otherwise be financially out of reach.
The grant guidelines and application for the Jane Savoie Fund for Adult Amateurs can be found on TDF's website at www.dressagefoundation.org. The application deadline is April 10th of each year.
TDF welcomes donations to the Jane Savoie Fund for Adult Amateurs. Gifts can be made by credit card at www.dressagefoundation.org or by calling Jenny Johnson, TDF's Executive Director, at (402) 434-8585. Donations by check can be mailed to TDF's office at 1314 'O' Street, Suite 305, Lincoln, Nebraska, 68508.
About The Dressage Foundation 
The Dressage Foundation is a 501(c)(3), non-profit, tax-exempt, donor-driven organization that is dedicated to educating, supporting, and advancing the sport of dressage. The organization solicits contributions, appropriately allocates the donations, and awards grants and scholarships to dressage riders, judges, instructors, breeders, high performance teams, and nonprofit equestrian organizations. For more information, please visit www.dressagefoundation.org. 
Photo provided by John Borys Photography