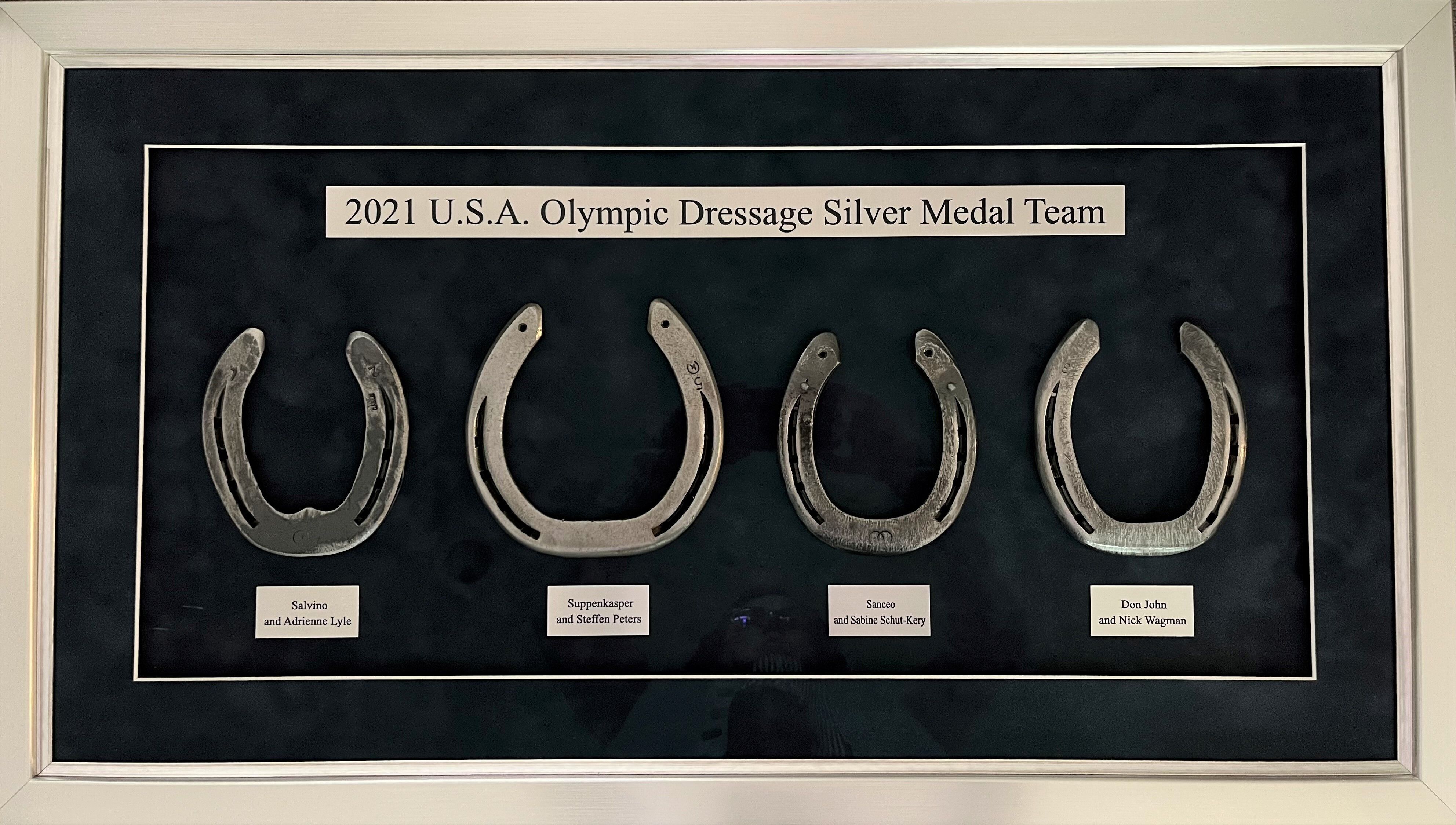 The Dressage Foundation (TDF) invites you to support its grants and programs through an online auction featuring a limited selection of high quality, unique, and historic items.
The items up for bid include:
Elegantly framed set of horseshoes from the 2021 US Olympic Silver Medal Team: Salvino, Suppenkasper, Sanceo, and Don John. The set comes with Certificates of Authenticity signed by each rider.
Beautifully framed horseshoe worn by German Olympic Gold Medalist and newly crowned 2023 FEI World Cup Champion, TSF Dalera BB. An autographed photo and Certificate of Authenticity are signed by Jessica von Bredow-Werndl. Also included is an autographed copy of the book, "Heaven on Horseback," by Jessica von Bredow-Werndl.
Unique and beautiful artwork, jewelry, apparel, and more.
The auction is being held at www.32auctions.com/TDF2023 and will run from April 4th through April 16th. Additionally, items can be viewed at TDF's booth at the FEI World Cup Finals in Omaha this week through Saturday, April 8th. Shipping of the items is only available within the United States.
"We are thankful for the generosity of all the individuals and business owners who so kindly donated these special items for this auction," said Jenny Johnson, TDF Executive Director. "It is incredible to know that they support the education of dressage riders across the country."
100% of the auction proceeds will support The Dressage Foundation's grants and programs, including the Margaret Duprey/Cherry Knoll Farm $100,000 Matching Gift Challenge for TDF's Young Rider Dream Program.
For more information, please visit www.dressagefoundation.org or call 402-434-8585.