Amanda Johnson Freestyle Fund for Region 2 and 4 Riders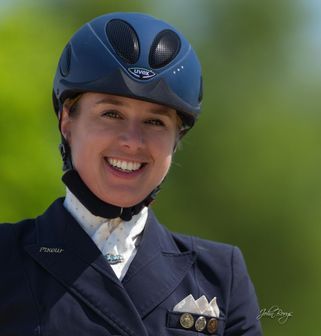 The Amanda Johnson Freestyle Fund was established at The Dressage Foundation in 2020 by Amanda's family and friends, in memory of her dedication to the sport of dressage.  
Amanda passed away in 2018 at the age of 37 after a three-year struggle with triple negative breast cancer. She was kind, generous, humble, talented, and brave. Amanda lived her life to the fullest. She was a well-respected member of the dressage community as a trainer, coach, competitor, and clinician. She was a USDF Bronze, Silver, and Gold Medalist and earned her USDF Silver and Gold Freestyle Bars. Amanda was a lifelong student of dressage and especially enjoyed showing in the Musical Freestyle classes. One highlight for her was in 2017 when she was invited to the World Cup in Omaha, Nebraska, to ride the freestyle demonstration for the Dressage Showcase event. It was a thrill for her to do what she loved in front of an appreciative audience.
The goal of this Fund is to provide an annual grant of up to $2,000 to a young professional between the ages of 20 and 30 to pay for the costs of creating a professionally prepared musical freestyle for competition.  Applicants must be current residents of USDF Region 2 or USDF Region 4.
 Applicant Criteria:  
Must be a U.S. Citizen or Permanent Resident.   
Must be a current resident of USDF Region 2 or USDF Region 4.
Must be between the ages of 20 and 30 at the time of the application.
Must be a professional in the dressage community who competes in recognized competitions with excellent scores.
Grant Amount: 
At this time, one grant of up to $2,000 will be available each year to a qualified applicant chosen by an independent selection committee.   
Additional Information:   
Funding cannot be used for vet and/or farrier expenses, living expenses, or the purchase of a horse or equipment.  
An individual can only receive a grant from this Fund one time.     
The committee reserves the right to not award a grant in any given year if they determine that no candidate has met the criteria. Funds would then be held until the following year.  The applications and discussions of the selection committee are confidential, and their decisions are final.   
If the grant recipient is unable to move forward with the creation of a musical freestyle as specified in their application, The Dressage Foundation must be notified as soon as possible. Approval for a change in the use of funds is at the discretion of The Dressage Foundation and the grant selection committee.   
The online application form and all required documents must be submitted to The Dressage Foundation on or before October 15th of each year.   
The grant must be used within one year of announcement date.