Team #498 Mary Sawyer and Unique Conversion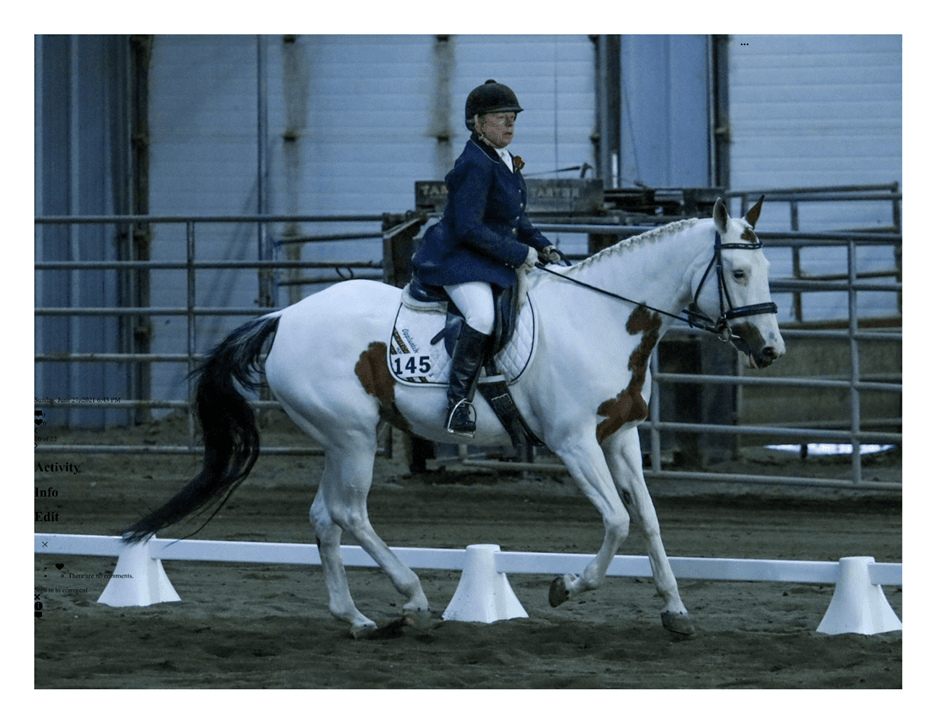 Team #498: Mary Sawyer and Unique Conversion
Ages: 76 & 24
Combined Age: 100
In 1995, I rode a couple of horses for a friend. Because I would not accept any payment, she transferred a Paint filly (Unique) into my name. I attempted to sell her as a yearling but was unable because of her excessive white coat. I kept her and leased her to another friend who started her and rode her. In 2004, I bred Unique to a black Hanoverian. She foaled a very white filly. In 2006, I had jumped Unique a little, so I decide to event her a few times. It was fun, and Unique was very willing. I let another lady friend ride Unique, and she did a Century Club ride on her in 2016, Team #239. I rode my older paint gelding, Jokers Broker, in a Century Club ride in 2017, Team #301.
This year, I thought, "Well, why not ride Unique in a Century Club ride?" I started conditioning Unique over fences and in the dressage arena. In May 2021, I rode Unique in a three-day trial in Spokane, Washington, at Spokane Sport Horse Farm. We ended the trial in second place for our division. The announcer and farm owner made it known that we were attempting a Century Club ride. It was a wonderful experience to have friends and strangers alike rooting us on during the competition. Our local horse club, Appleatchee Riders, sponsors a small dressage show each year, so we entered to qualify for the Century Club. We won the class, and proved that older is better!
Appleatchee Riders had four Century Club Riders, all on Paint Horses:
#239 Mary Jo Herkenrath and Unique Conversion
#301 Mary Sawyer and Brokers Joker
#341 JoAnne Percy and King's Sunny Doll
#498 Mary Sawyer and Unique Conversion
Mary and Unique conversion completed Training Level, Test 1, on June 12, 2021, for their Century Club membership.