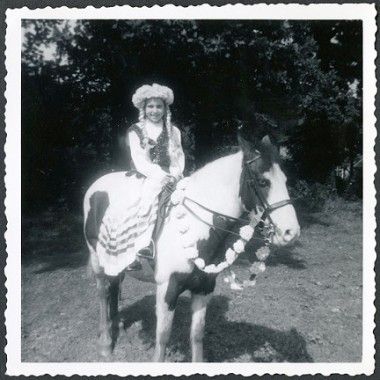 Karen Skvarla and her beloved pony, Corkey
The Dressage Foundation has announced that new grants will be available for young dressage professionals through the Karen Skvarla Fund. This Fund was established by Diane Skvarla, in memory of her sister, Karen.
Karen was a budding equestrian when she passed away in 1968 at the age of 9 years old. Her family created this Fund to honor Karen, her love of horses, and joy in riding. The purpose of the Karen Skvarla Fund is to provide grants enabling young dressage professionals to pursue training or educational opportunities. Grant applicants should be in the beginning stages of their dressage careers as instructors and/or trainers.
The Karen Skvarla Fund grant selection committee will especially look for applicants who are eager to grow and improve, and who are fair and respectful to both students and horses.
"This is such a special way to honor the memory of Karen," said Jenny Johnson, TDF's Executive Director. "We appreciate the generosity of the Skvarla Family, and other future donors, who wish to provide important help for those just starting their professional dressage career."
One annual $300 - $500 grant will be available at this time. Applications are due on or before February 15th of each year. A Selection Committee will review applications and announce a decision no later than April 15th.
Visit the Karen Skvarla Fund page for more information and a link to the application.