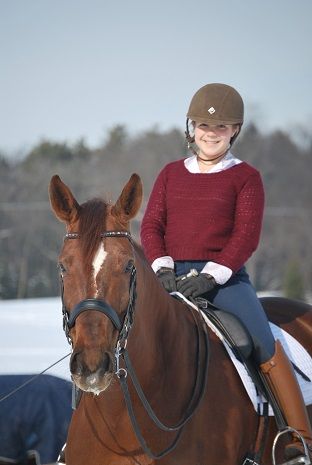 The Dressage Foundation's Renee Isler Dressage Support Fund has awarded a $600 grant to Young Rider Rosie Julian-Simoes (IL) to train her Danish Warmblood, Proteus, with Robert Dover, Debbie McDonald and Lendon Gray.
Rosie and Proteus will travel to Florida in March to compete in two Wellington CDIs, as well as to further their training through lessons with top instructors. Rosie feels that the education received during her time in Florida will help her to reach her 2015 goals of qualifying for and competing in the NAJYRC and Festival of Champions, as well as her longer-term goals of competing in the Brentina Cup and internationally.
"The Dressage Foundation is allowing riders of all levels and divisions to chase their dreams and accomplish their riding goals, and I feel unbelievably lucky to be one of them," said Rosie. "This grant is doing more than just providing financial support; it is providing me with the opportunity to further my education. That is why there are not enough words to thank The Dressage Foundation and the Renee Isler Fund for helping me to achieve my goals!"
Grants are available for young riders and professionals through the Renee Isler Dressage Support Fund. Since 2008, the Renee Isler Dressage Support Fund has provided nearly $40,000 in grants/scholarships to support the further education of the recipients.