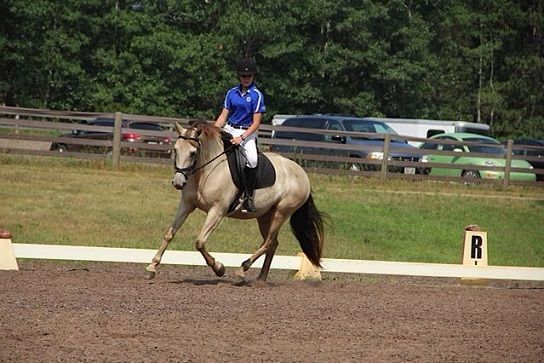 The Dressage Foundation's Renee Isler Dressage Support Fund has awarded a $1,000 grant to youth dressage rider McKayla Hohmann (Colfax, WI) to train her rescue pony, Humble Hazel, with Amanda Johnson. Humble Hazel is owned by Karen Lee.
McKayla's goal for the next year is to gain a better understanding of balance with her horse so that she can apply it to showing at Second Level. After her intensive training with Amanda Johnson, McKayla hopes to move on with Hazel towards the FEI Pony tests. McKayla says, "I plan to use the information I receive to better educate not only the horses I currently work with, but those I will work with in the future and also the other young riders in the area as I continue to promote dressage as a great youth equestrian discipline choice!"
McKayla is an ambassador for youth dressage, volunteering as Liaison between her local Pony Club and dressage club for educational events. She also volunteers at her local horse rescue, helping to make horses more adoptable. "I love all horses, but it makes me feel good to give back to the ones that come in starved, abused, or neglected." She continues, "As I advance in the sport and get older, I will be looking for ways to help other young riders and hope to be in a position to provide funding for The Dressage Foundation."
Grants are available for young riders and professionals through the Renee Isler Dressage Support Fund.