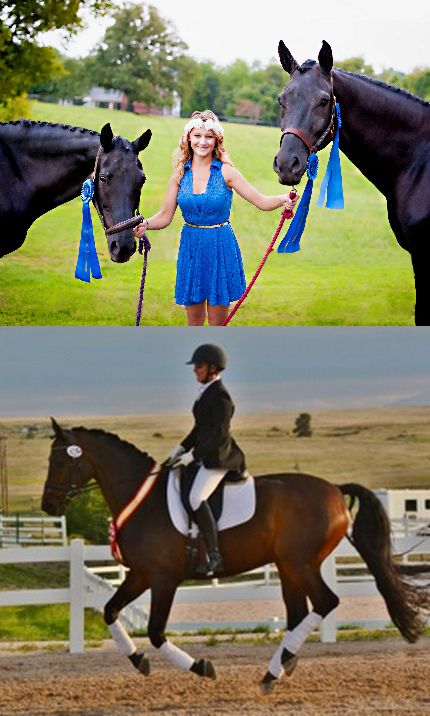 Photos:
Saxon Marvin (top)
Jacquelin McIntyre (bottom) credit to Kathleen Bryan
The Dressage Foundation has announced that Adult Amateur Jacquelin McIntyre (CO) and Young Rider Saxon Marvin (KY) are recipients of TDF's 2015 Heldenberg Training Center Fund grants. Jacquelin and Saxon will each receive $2,000 to attend the Spanish Riding School's Training Center in Heldenberg, Austria.
Ralph and Freddie Dreitzler established the Heldenberg Training Center Fund in memory of E.L. Dreitzler, in conjunction with Andreas Hausberger, Chief Rider at the Spanish Riding School and Director of the Training Center in Heldenberg. The purpose of the fund is to provide financial assistance to North American, non-professional riders to participate in educational sessions and training in Heldenberg.
Jacquelin and Saxon plan to attend a 5-day Theoretical Course at Heldenberg, which will include instruction about the proper seat, correct aids, lunge work, training stages of the horse and rider, and the history of the Spanish Riding School.
"Thank you to the Dressage Foundation for selecting me for the Heldenberg Training Center Fund grant," said Jacquelin. "The Spanish Riding School is such an impressive place of classical dressage, I only thought I'd get there in my dreams. When I come back from the HeIdenberg Training Center, I hope to inspire others in the art of classical dressage with what I have learned. I am very excited to be able to make the trip with the aid of the grant."
Saxon said, "Dressage is my passion, and therefore the opportunity to catch even a glimpse of true classical dressage means the world to me. Attending educational sessions at the Spanish Riding School will give me the opportunity to gain priceless knowledge about classical dressage that I can use in my own riding career and share with the dressage community. I cannot express how overwhelmed with gratitude I am."
"It is our hope that many people will benefit from this scholarship opportunity and the wonderful training opportunity that is being presented by the SRS with opening its doors to outside students to study with the Riders of the SRS," said Ralph Dreitzler. "We also welcome any donations that are made to further advance this scholarship program from other dressage enthusiasts."