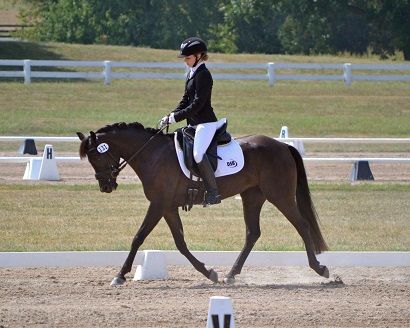 The Dressage Foundation is pleased to announce that the Carolyn Van Cise Memorial Sportsmanship Fund Grant has been awarded to young rider Katrina Sadis of Ann Arbor, Michigan. Katrina intends to use the $500 grant for lessons on her German Riding Pony, Iridesse SVS, with Olympian Lendon Gray.
Katrina, a high school junior, is a member of Midwest Dressage Association, has earned Level 1 and 2 Certifications from the Certified Horsemanship Association, and has participated in the Emerging Dressage Athlete Program. In 2014, she earned the USEF National FEI Pony Championship with Poldy 10. She plans to train and compete her German Riding Pony with the goal of leasing Iridesse SVS to youth who will benefit from riding an FEI pony.
"I am very grateful and excited to be the recipient of the Carolyn Van Cise Memorial Sportsmanship Grant," said Katrina. "This grant will help me expand my dressage education, especially in the training of young horses. I would like to thank The Dressage Foundation for their commitment to helping young riders like me further their knowledge and advance in this sport. "
Carolyn Van Cise was active in Michigan's dressage community for many years as a trainer, instructor, judge, and mentor. Dressage was her passion and she served as a role model for those she knew. The Carolyn Van Cise Memorial Sportsmanship Grant is awarded annually to a Junior/Young Rider who is a current Michigan resident and best exemplifies the qualities that Carolyn found most important in life, including exhibiting the characteristics that demonstrate positive sportsmanship principles.
Recipients of this grant will receive $500 to be used towards expenses associated with attending a specific educational eventing or dressage event of their choice.