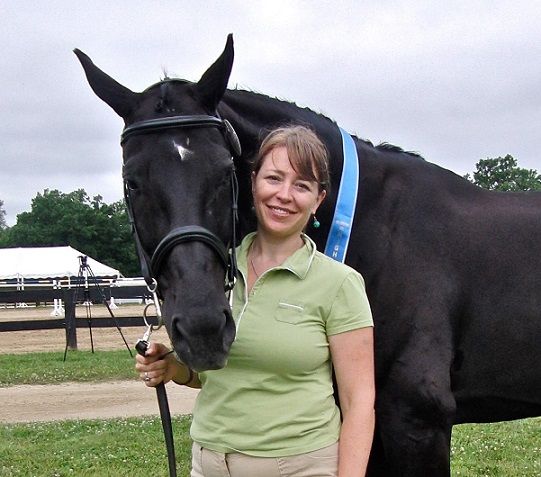 The Dressage Foundation is pleased to announce that Jennifer Ray (MI), of MJ Warmbloods, has received a Grant from TDF's Elysium Farm Fund for U.S. Breeder Excellence.
The Elysium Farm Fund for U.S. Breeder Excellence, established at The Dressage Foundation in 2011 by Abbey Henderson, owner of Elysium Farm (MA), provides financial assistance to breeders to pursue educational opportunities related to breeding that will advance their careers, promote sound breeding practices and further enhance the quality of U.S.-bred dressage horses.
Jennifer Ray was awarded $1,500 to attend the Hanoverian Studs and Breeders Tour in August, which includes four day trips to different farms in Germany, and one day at the European Championships in Aachen. "As a breeder of Warmblood horses, I am excited to expand my knowledge in Germany at the Hanoverian Studs and Breeders Tour. Going to Germany will allow me to develop my eye and study the many different lineages in person," Jennifer shared. "In Europe I will be able to see so many more horses in one location, which will provide the education to understand what the many different lines offer. Seeing is knowledge and knowledge is education. I am grateful for the opportunity to continue to educate myself though the Elysium Farm Fund Grant provided by TDF."
Applications will again be received in 2017, with a due date of May 1st. Further information about the Elysium Farm Fund for U.S. Breeder Excellence is available at The Dressage Foundation website, http://www.dressagefoundation.org/apply/dressage_breeders/elysium-farm-fund.html or call (402) 434-8585.