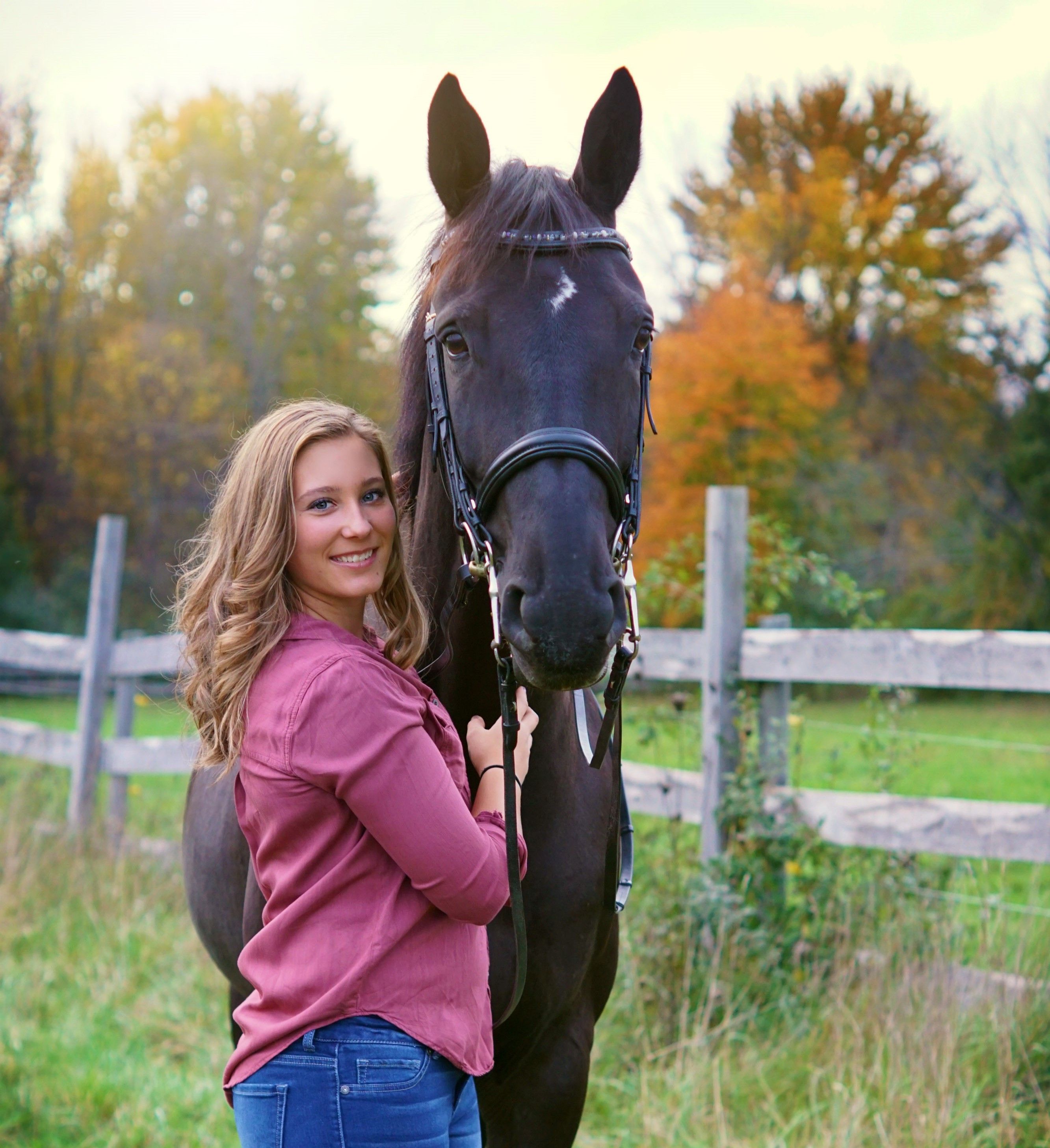 The Dressage Foundation is pleased to announce that the Carolyn Van Cise Memorial Sportsmanship Fund Grant has been awarded to young rider Abigail Sykes of Twin Lake, Michigan. Abigail intends to use the $500 grant for lessons on her warmblood mare, Fly, with Katherine Bateson-Chandler.
Abigail is a high school senior, member of All Dressage Association and Grand River Pony Club. In 2016, Abigail earned her Bronze Medal and hopes to complete her scores this year for her Silver. Abigail takes regular lessons from Laurie Moore and has long term goals of developing herself and Fly for the FEI Young Rider Team for NAJYRC in a few years.
"I am so excited to be given such a great opportunity and am incredibly grateful for the chance to ride with Katherine Bateson-Chandler, an amazing clinician. The Carolyn Van Cise Memorial Sportsmanship Grant will help to expand my knowledge with Fly in the sport of dressage," said Abigail. "Thank you to everyone who made this possible; to The Dressage Foundation for selecting me, to my trainers who push me, and to my parents who support me. I wouldn't be where I am today without you!"
Carolyn Van Cise was active in Michigan's dressage community for many years as a trainer, instructor, judge, and mentor. Dressage was her passion and she served as a role model for those she knew. The Carolyn Van Cise Memorial Sportsmanship Grant is awarded annually to a Junior/Young Rider who is a current Michigan resident and best exemplifies the qualities that Carolyn found most important in life, including exhibiting the characteristics that demonstrate positive sportsmanship principles.
Recipients of this grant will receive $500 to be used towards expenses associated with attending a specific educational eventing or dressage event of their choice.
For more information about the Carolyn Van Cise Memorial Sportsmanship Fund or The Dressage Foundation, please contact Jenny Johnson at (402) 434-8585, by email at jenny@dressagefoundation.org, or visit http://www.dressagefoundation.org/grants-and-programs/apply/young/vancise_fund.html