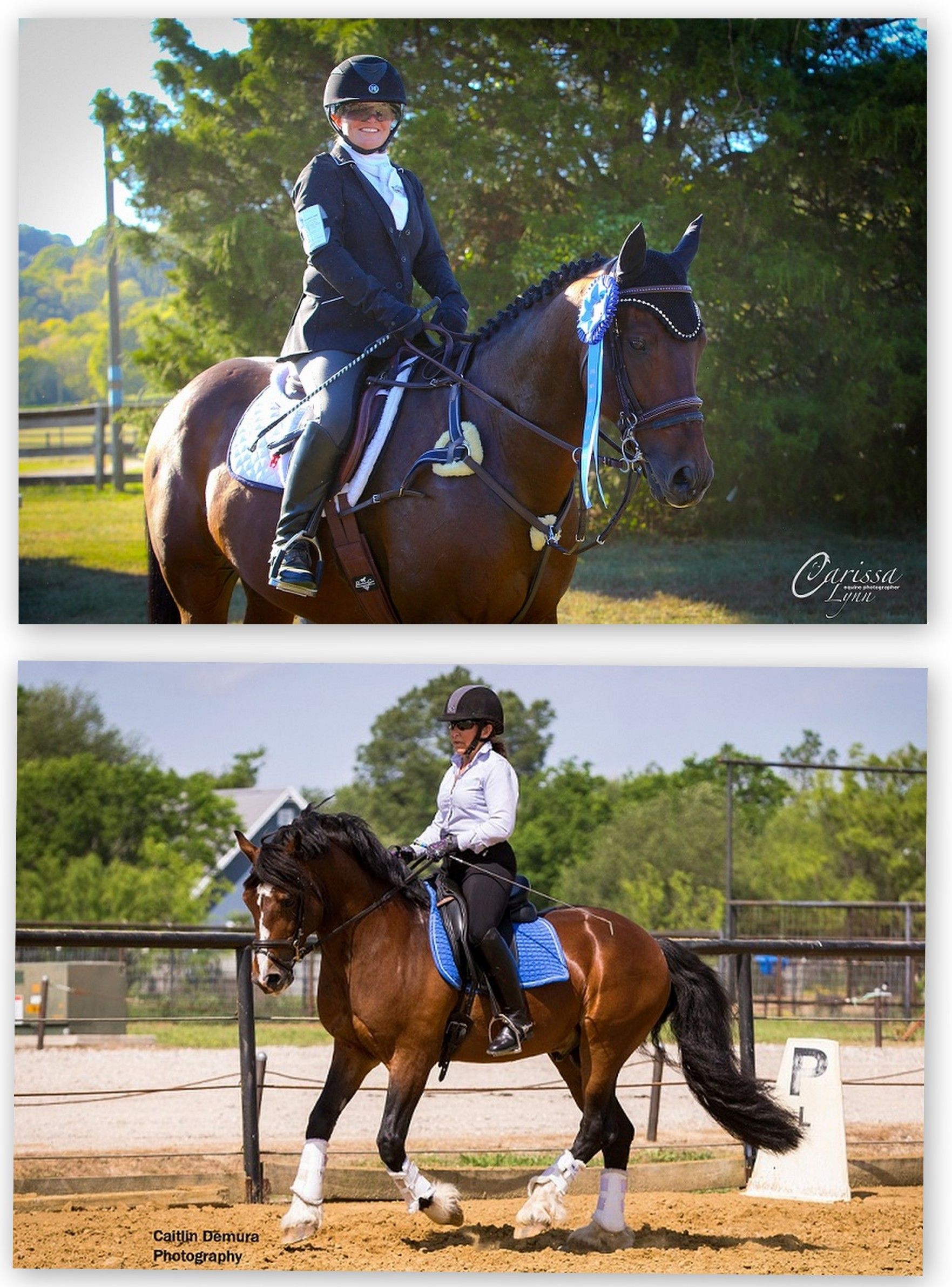 (Pictured: Missy Carlisle credit Carissa Lynn and Melinda Lee-Stroud credit Caitlin Demura)
April 19, 2017 – The Dressage Foundation is pleased to announce that the first Evie Tumlin Memorial Fund Grants for Region 9 Adult Amateurs have been awarded to Missy Carlisle (MS) and Melinda Lee-Stroud (TX).
The purpose of the Evie Tumlin Memorial Fund is to provide grants to Adult Amateur riders who currently reside in USDF Region 9, to aid in their development in dressage and/or eventing.
Missy plans to use the grant to attend clinics with eventing and dressage trainers. She said, "My goal this year is to qualify and compete in the American Eventing Championships held in Tyron, NC, in September. Being able to better myself with clinic opportunities will increase my chances of reaching my riding goal for this year."
Melinda shared, "This grant will be used for intensive dressage training time with Lurena Bell. I have successfully shown at Second Level and want to move into Third Level. This training will help me to achieve my 40-year goal of receiving a USDF Bronze medal on my homebred Welsh Cob stallion, Danswer Gwynt. I am humbled to receive this assistance."
Grants typically range in the amount of $250 - $750, to be used for educational experiences that will further the applicant's knowledge of dressage and are in addition to the applicant's typical training plan. These events may include camps, clinics, riding lessons, etc. Additional consideration will be given to riders who also participate in eventing, as well as to those who have a history of volunteer work related to dressage and/or eventing. The grant application deadline is March 1st of each year.
Gifts of any amount are welcome to TDF's Evie Tumlin Memorial Fund for Region 9 Adult Amateurs. Donations by check can be mailed to TDF's office at 1314 'O' Street, Suite 305, Lincoln, Nebraska, 68508. Donations can be made by credit card online at www.dressagefoundation.org or by calling TDF's office at (402) 434-8585.