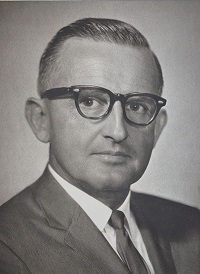 The Dressage Foundation (TDF) is honored to announce the new "Max E. Gahwyler Instructor Education Fund."  The purpose of this Fund is to provide financial support for educational events for dressage instructors.

"Dr. Max" was an early pioneer of dressage in the United States.  He was a nationally and internationally recognized judge with a passion for dressage theory and was instrumental in bringing the best teaching and judging talent over from Europe.  Dr. Max also proposed the idea of the Century Club to The Dressage Foundation in 1996 and became Team #2 with Prinz Eugen.  He passed away at the age of 92 in 2016.
His beloved wife, Doris, passed away at the age of 94 in 2019.  This Fund was established with a gift that Doris left in her Will for the Foundation.  She asked that her gift be used to provide financial support for the continuing education of dressage instructors in memory of Max.
TDF's President and CEO, Beth Baumert, said, "TDF is so honored to offer this grant in memory of Max Gahwyler who contributed to our sport in such a genteel way. His kindness and love for the horse was pervasive and touched so many horses and riders. He is dearly missed but this Fund will help carry on for him." 
Grant applications will be accepted from equestrian organizations, dressage clubs or owners of private facilities who are hosting educational events for dressage instructors.  Grants of up to $1,000 per event will be available beginning in 2020.  Applications are due at least 90 days prior to the event.
For more information about this Fund, click here or contact Jenny Johnson at (402)434-8585 or jenny@dressagefoundation.org.