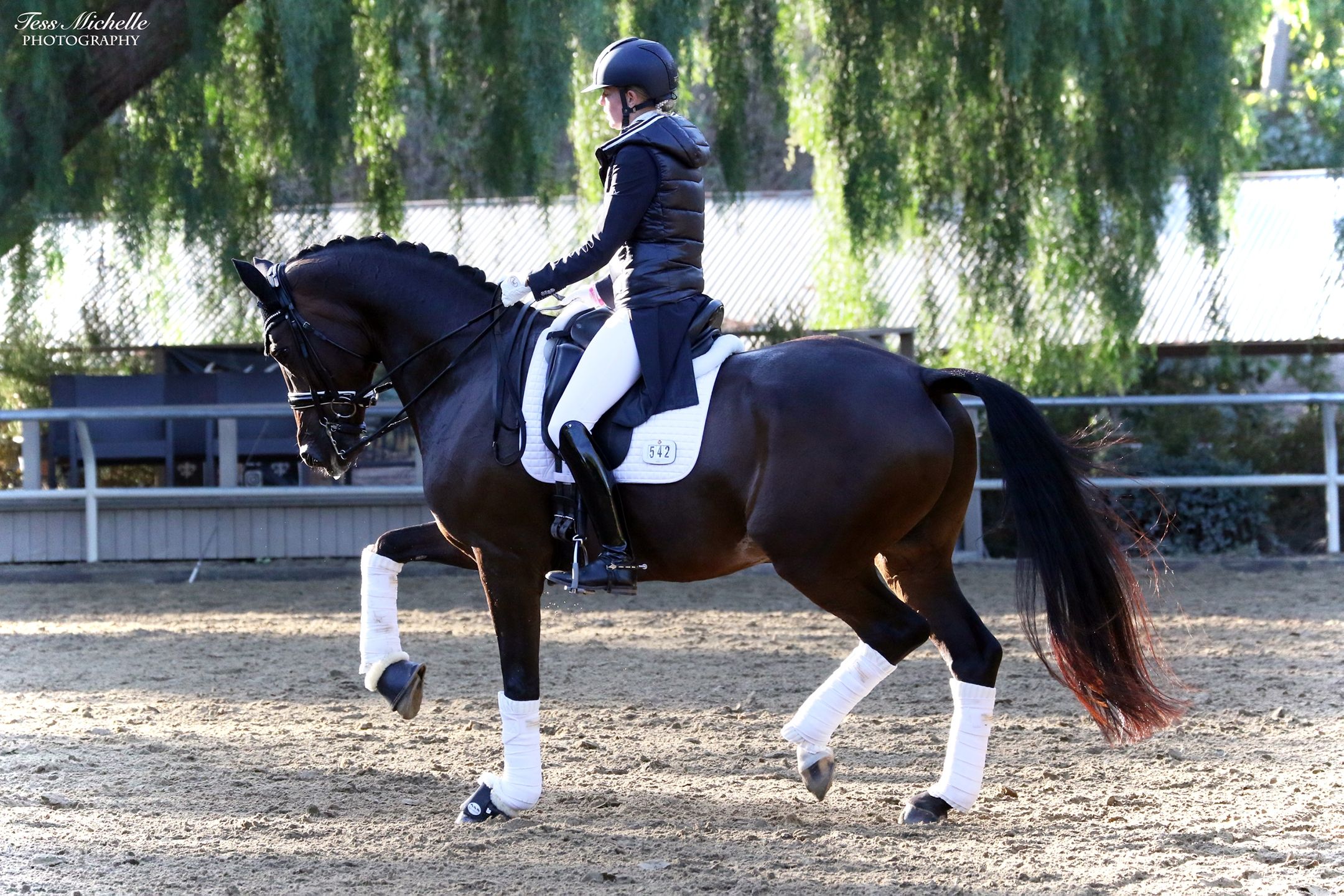 The Dressage Foundation is pleased to announce that Carly Taylor-Smith and Rosalut NHF have been selected to receive this year's $25,000 Anne L. Barlow Ramsay Grant. The purpose of the Grant is to showcase talented American-bred horses ridden by United States citizens, by providing money to train and compete in Wellington, Florida, or in Europe.
Rosalut NHF was bred by Maggie Neider of North Hill Farm in New York and is owned by Nikki Taylor-Smith.  "Ludo" has garnered two National Young Horse Championship titles and two USDF Horse of the Year Awards. Carly and Ludo won the 2018 Adequan West Coast Dressage Festival CDI at Intermediate I and were third at the 2017 USEF/Markel Developing Horse Prix St. Georges Championships. Carly will use the $25,000 grant to train with Debbie McDonald in Wellington this season and possibly train and compete in Europe in the summer of 2020. 
Carly shared, "I am truly touched and incredibly grateful to be receiving the Anne Ramsay Grant from The Dressage Foundation!  Because of the generosity of Dr. Ramsay, riders like me who don't come from a wealthy background are able to pursue top training and showcase their talented horses, in the hope that they will one day become team contenders. Our 9-year-old, Rosalut NHF, is proudly American bred and will be doing his first season at Grand Prix in 2020. In support of American breeding, we have also just recently acquired another American bred foal. Our hope is to produce a pipeline of potential successors to have as future team horses."
Dr. Ramsay's passion and support of U.S.-bred dressage horses is exceptional. Through a Charitable Remainder Unitrust that she established with The Dressage Foundation in 1999, she created a Fund to provide these $25,000 grants.  In 2009, Dr. Ramsay established a second Unitrust to extend the impact of the grants in perpetuity. 
For more information about the Anne L. Barlow Ramsay Grant or The Dressage Foundation, please contact Jenny Johnson at (402) 434-8585, by email at jenny@dressagefoundation.org, or visit www.dressagefoundation.org.

Photo by Tess Michelle Photography