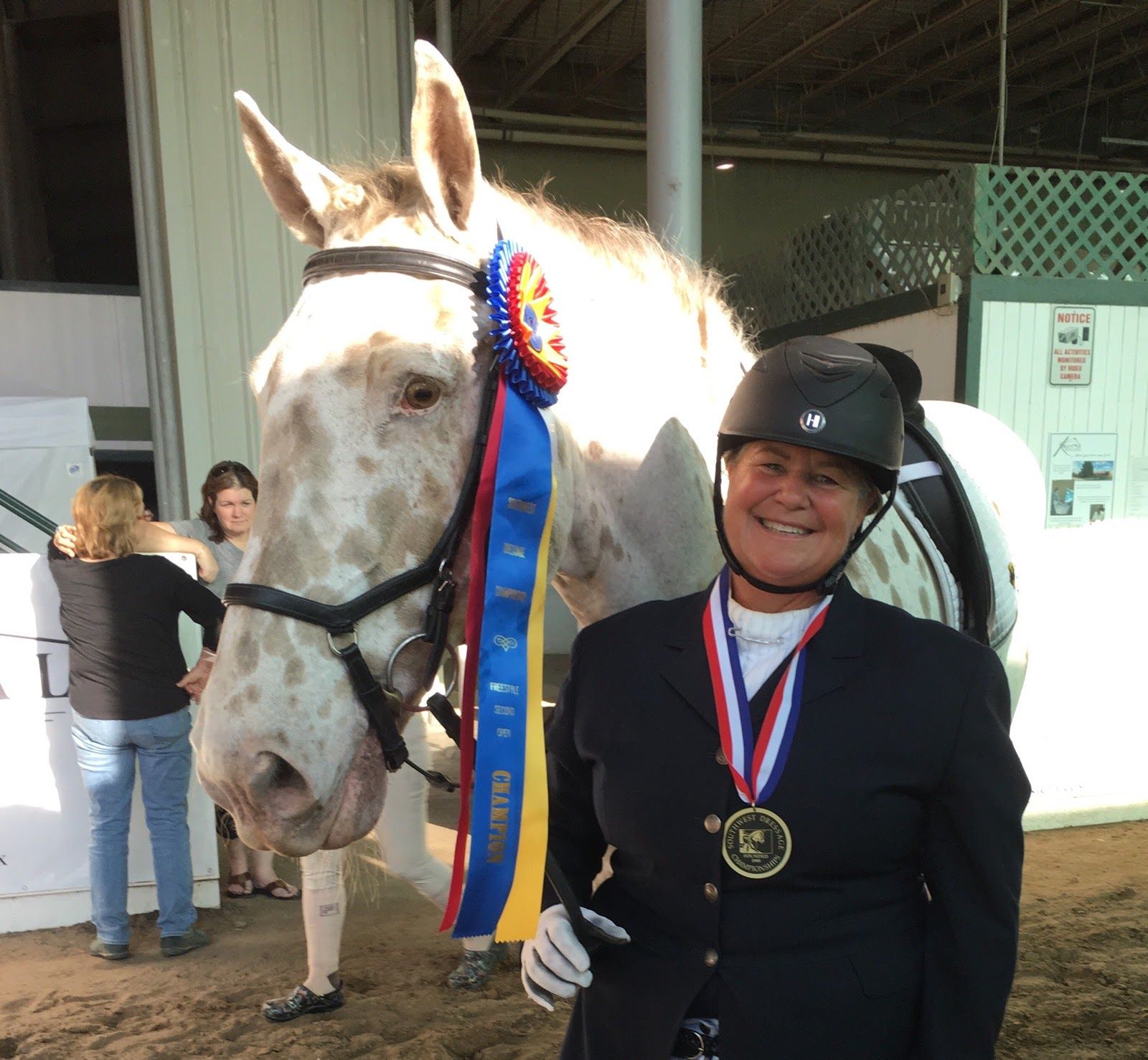 Leslie Morris of Metairie, Louisiana, was presented with The Dressage Foundation's 12th annual "Region 9 Teaching Excellence Award" at the 2020 Region 9 Championships.  She received the $5,000 award for demonstrating adherence to sound dressage principles and the ability to communicate these principles so that students develop themselves and their horses in a logical, progressive, and humane way up through the levels.
Leslie began teaching in Louisiana in 1992 and has worked with students and horses from beginner through Intermediaire 1.  She is a long-time member of Southern Dressage and Eventing Association and received the club's Lifetime Achievement Award for many years of service.
Meg Flemming, who established the award at TDF in 2009, said, "Leslie's efforts in improving her teaching were evident to the selection committee.  Her videoed lessons were organized, step-by-step, level appropriate, and effective.  Leslie demonstrated very correct assessment of one or two key issues that the rider faced.  She then selected appropriate exercises to correct those issues.  The improvements in horse and rider were clear in each lesson.  Her down-to-earth demeanor and her kind approach were evident, but her ability to give appropriate praise when it was due reinforced her high standards."
Leslie said, "I want to thank The Dressage Foundation for the opportunities the Teaching Excellence Award will afford me, to further work on my teaching and riding skills.  I look forward to riding and auditing many clinics and symposiums that I wouldn't have been able to attend without this grant." 
Dressage instructors are nominated by students or peers, and then submit an application that is reviewed by a prominent Selection Committee. In addition to being a USDF Region 9 member in good standing and a Region 9 resident, the recipient must also demonstrate adherence to sound dressage principles and have a reputation for honesty, integrity, and community service.
For more information, visit www.dressagefoundation.org, call (402) 434-8585, or email info@dressagefoundation.org.