The Dressage Foundation is proud to announce this year's recipients of the Carol Lavell Gifted Memorial Fund Grants for Adult Amateurs. Each will receive a $1,500 grant (up from $1,000 in previous years) to enable them to set aside quality time in concentrated training with their horse, trainer of choice, and away from the daily pressures of job and family.   

"In such a difficult year, we are pleased to help these adult amateurs take time to focus on riding and training their horses, and to simply enjoy spending time with them. We're forever grateful to Carol Lavell and her family, who have provided this financial support, and we congratulate each recipient," said Jenny Johnson, TDF Executive Director.

Up to eleven $1,500 grants are available each year - one per United States Dressage Federation Region and two wild card grants that can be awarded in any Region. The following Adult Amateurs were chosen as recipients from their respective USDF Regions: 

Region 1: Scnobia Stewart, Cedar Grove, NC: Scnobia and her Dutch Harness horse, Zima, will train with Ali Perkins in collaboration with "Three Wishes Freestyles" and musician Taylor Stewart. Scnobia is a member of North Carolina Dressage and Combined Training Association.  

"This grant means opportunity for me. I have always wanted to perform a musical freestyle but never had the proper resources to make it happen. I am very excited to collaborate with a team of professionals to create a dressage-inspired work of art."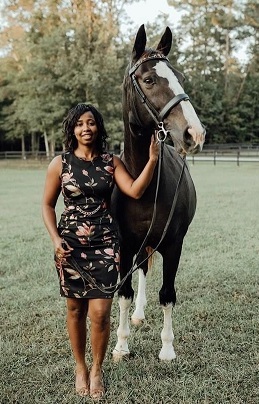 Photo by Heidi Bee Photography

Region 1: Melissa Jamison, Hayes, VA: Melissa and her Oldenburg, Leggy, will work with Lehua Custer. Melissa is a member of Southeast Virginia Dressage Association. 

"Being an active-duty service member and moving five times in 11 years, consistency of training and being around for my horses has always been a challenge. I hope we can really make strides (flying changes!) forward in our training. 2020 has been a tough year for all, but this grant gives 2021 a brilliant sparkle to look forward to."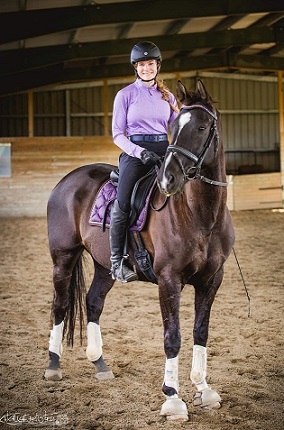 Photo by CatchLight Artistry/Amanda Braun

Region 2: Leana Tank, Grand Rapids, MI: Leana and her Norwegian Fjord, Sunniva, will train with Laurie Moore. Leana is a member of All Dressage Association.  

"As a full-time working mom and adult amateur rider, every lesson is priceless, and they can be few and far between. This training intensive will be the highlight of my winter!"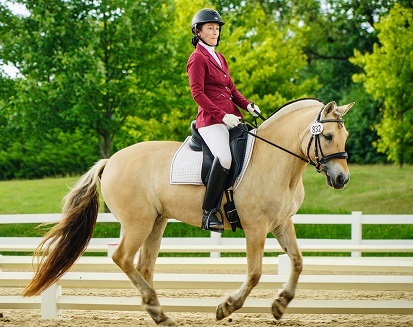 Photo by Eric Tank

Region 3: Simone Cormier, Ocala, FL: Simone and her Thoroughbred, Sacred Legacy, will work with Megan Fischer Graham. Simone is a member of STRIDE. 

"Being chosen to receive this grant is a dream come true. I am so very grateful and honored to have this opportunity to be able to set aside my daily routine and immerse myself in an intensive training program. Thank you to TDF and its donors!"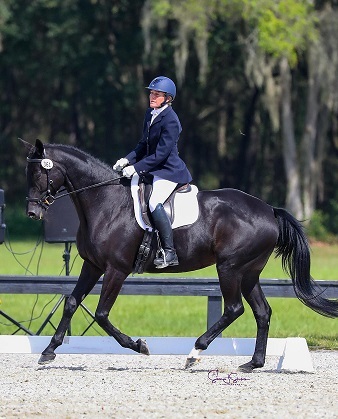 Photo by Susan J. Stickle

Region 4: Sally Miller, O'Fallon, MO: Sally and her Dutch Warmblood, Dea, will work with Brianna Zwilling and Betsy Steiner. Sally is a member of St. Louis Area Dressage Society.  

"Being awarded the Gifted Fund grant nudges me to allow for my own development by carving out this special time, and I am so excited for all I will learn!"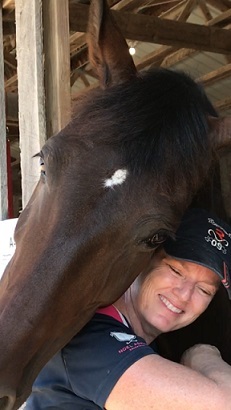 Region 5: Michele Barton, Goodyear, AZ: Michele and her Thoroughbred, Our Tigers Boy, will train with Nathalie Eikel-Baughman. Michele is a member of Tucson Dressage Club.  

"As a working adult amateur, it is difficult to find time for training more than once a week. This grant will be a great help to get my new horse and I off to a great start!"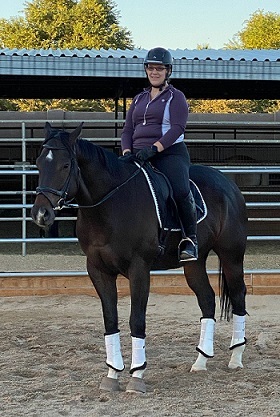 Region 6: Raena Schraer, Anchorage, AK: Raena and her Hanoverian/Dutch Warmblood, Louboutin EE, will travel to Oregon to spend a week with trainer Jessica Wisdom. Raena is a member of Alaska Dressage Association.  

"Living in Alaska and trying to train a dressage horse up the levels is challenging in many ways. These opportunities to ride and learn with talented horse trainers and instructors are invaluable and enable us to keep our local Alaskan horse scene going."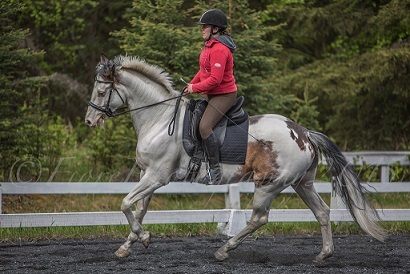 Photo by Fiore Photography/Karen Duplantis

Region 7: Kelly Artz, Woodland Hills, CA: Kelly and her Dutch Warmblood, Winston, will work with Carly Taylor-Smith. Kelly is a member of California Dressage Society-Los Angeles Chapter.  

"I am so grateful for this grant as it will give me the opportunity to learn how to prepare my first freestyle. This has been a goal of mine for the past two years, road blocked by cancer treatment, my horse's injury/rehab, and the hecticness of owning and managing two growing companies. I look forward to sharing my learning experience and process with others as well in hopes that it can help other amateurs."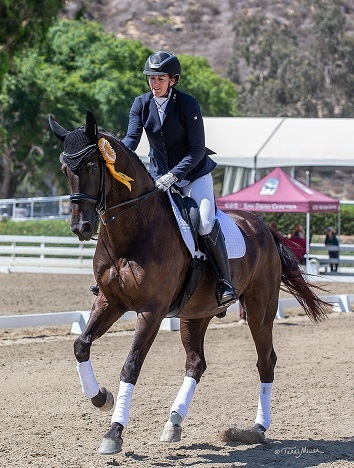 Photo by Terri Miller

Region 7: Lily Baker-Lubin, Novato, CA: Lily and her leased Oldenburg, Lancelot, plan to work with Riana Porter. She is a member of California Dressage Society.   

"TDF's support of amateurs is unparalleled, invaluable, and very gratifying. I hope to represent the hard-working, dressage-crazed amateurs and show the progress such support can help amateur riders to achieve. Thank you for helping me to continue to dream big!"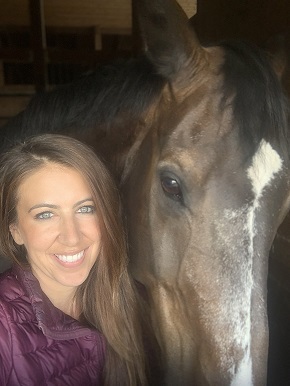 Region 8: MacKenzie Waro, Mount Vision, NY: MacKenzie and her Oldenburg, Hans, will work with Cody Moore. MacKenzie is a member of Eastern New York Dressage and Combined Training Association and Central New York Dressage and Combined Training Association.  

"As with many, my spirits have been low and receiving the news that I was a recipient of this grant has made me start looking forward to the future. As Les Brown once said, 'Shoot for the moon. Even if you miss, you'll land among the stars' and this is my motto going into 2021. Thank you TDF for this opportunity!"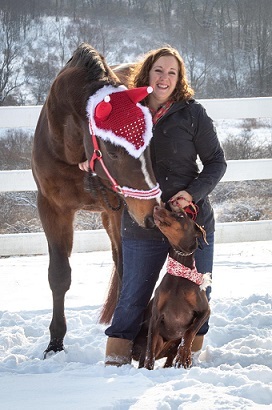 Photo by Kate Preston Photography

Region 9: Holly Luke, Guthrie, OK: Holly and her Oldenburg/Thoroughbred, Lust in the Wind, will train with Melissa Creswick. Holly is a member of Central Plains Dressage Society.  

"I am humbled and grateful to have received this grant which will allow me to continue my education and progress at the FEI levels. Thank you for your generosity and for making such an impact on my special journey."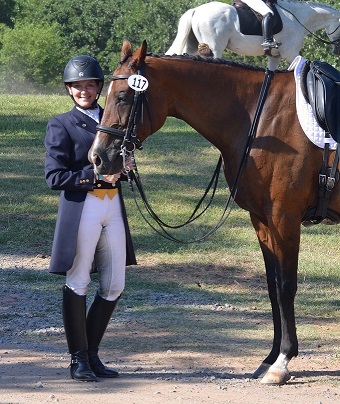 Click here for more information about the Gifted Fund Grants for Adult Amateurs, or contact Sara Weiss, TDF's Director of Grants and Programs, at (402) 434-8585 or sara@dressagefoundation.org.