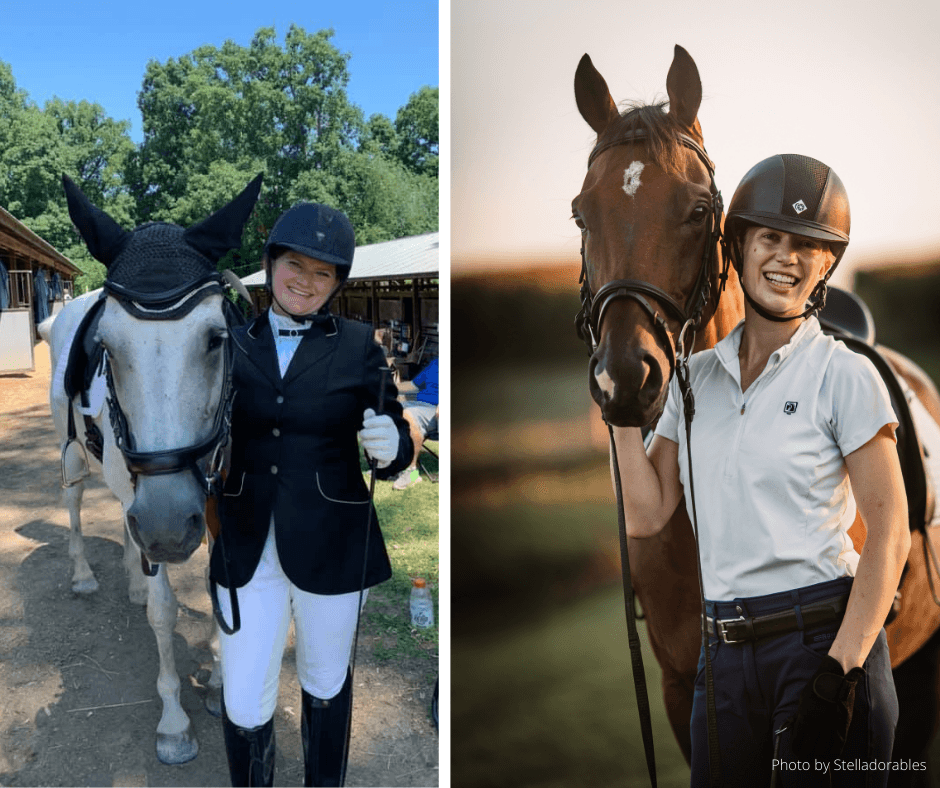 The Dressage Foundation is pleased to announce that the 2022 Karen Skvarla Fund Grants for Young Professionals have been awarded to Shari Wolke Masi (MI) and Emily Urban (NY). Each will receive a $1,500 grant to pursue training or educational opportunities.
Shari Wolke Masi (Michigan, Region 2): Shari is a member of the Midwest Dressage Association and All Dressage Association. She is a former high school English teacher and recently became a full-time dressage instructor. She currently has about 20 lesson students with a wide range in both age and skill levels. Shari plans to use her grant funding to take lessons with Vanessa Voltman and has a goal to earn her USDF silver medal.
Shari said, "I'm so thankful to have received this grant. It is incredibly helpful, as a young mom and trainer, to use this grant to receive instruction in training my own competition horse. This continued instruction will only serve to make the horses and riders I work with better as I continue to learn and grow in the sport."

Emily Urban (New York, Region 8): Emily is a member of the Cayuga Dressage and Cross Training Association and an advisor for the Finger Lakes Pony Club. Emily has been teaching informally for ten years; however, in 2020, she formally launched her training and lesson business. She currently has 11 regular students plus those within Pony Club. Emily is also a student and is working toward her Ph.D. in Soil and Crop Sciences. She plans to use her funding to spend two professional mentorship days with Michelle LaBarre and take virtual lessons with Laura Ashley Dressage.
Emily said, "I am grateful to TDF and the donors of this Fund. Not only will the focused training opportunity greatly assist my horse and me (especially after having a baby this winter!), but I am eager to bring back new ideas and concepts to my students. Additionally, I am really looking forward to the new business insights the professional mentorship days will bring into my business." 

The purpose of the Karen Skvarla Fund is to provide grants enabling dressage professionals to pursue training or educational opportunities. Grant applicants should be in the beginning stages of their dressage careers as instructors and/or trainers. The Karen Skvarla Fund Grant selection committee will especially look for applicants who are eager to grow and improve, and who are fair and respectful to both students and horses.
The Karen Skvarla Fund for Young Professionals awards two annual $1,500 grants, with applications due on or before February 15th of each year.  The application can be found at www.dressagefoundation.org.
For more information about the Karen Skvarla Fund or The Dressage Foundation, please contact Sara Weiss at (402) 434-8585, by email at sara@dressagefoundation.org, or visit www.dressagefoundation.org.
The Dressage Foundation
The Dressage Foundation is a 501(c)(3), non-profit, tax-exempt, donor-driven organization that is dedicated to educating, supporting, and advancing the sport of dressage. The organization solicits contributions, appropriately allocates the donations, and awards grants to dressage riders, judges, instructors, breeders, high-performance teams, nonprofit equestrian organizations, and more. For more information, please visit www.dressagefoundation.org.